File errors and re-indexes
EXACT databases are based upon tables, each table contains a different type of information such as patient data, appointment information and many more. If an issue occurs to one of these tables and their indexes you may experience an index error. The only way to resolve an index error is for the Software of Excellence support team to perform a re-index.
A re-index is an automated process that is performed to re-establish the connections between the indexes and tables, linking all the data and information contained inside them correctly.
File Errors
If this message appears, click the Details button to view more and contact the support team for assistance as soon as possible, failing to contact our team may result in data loss.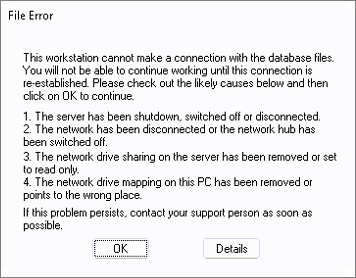 One of the following errors may be displayed,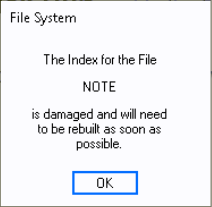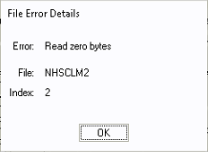 Please note: If you are experiencing any of these issues, please take screenshots or photos of all of the errors as these are extremely useful for our support team to assist you and resolve the issue at hand.
Reasons for a re-index
The most common reason for a reindex is the corruption of a datase, most commonly caused by the sudden shutdown of a server computer, such as a powercut or server hardware issues.
Depending on the error displayed, other factors may be causing the error, these may require the assistance of your IT support provider depending on the severity of the issue at hand.
Expected timescale for a re-index
Performing a re-index is an intensive procedure, utilising a lot of the operating power of a computer. This means that there are several factors in play that can affect the length a re-index takes to complete.
Factors affecting the length a re-index takes include,
Server computer operating power, age and health
Any other programs running (such as anti-virus, backups, etc.)
Size of your database