NHS Scotland SDR 162 (1st November 2023)
NHS Scotland has released Amendment No.162 to SDR, effective 1st November 2023.
This article explores how this effects charting the introduced changes in EXACT.
Please Note: If you require assistance in selecting services or any query relating to the SDR, please contact NHS Scotland directly, NHS Contact Details.
Important: You must have EXACT 13.992 or above installed in your practice for the correct data to be transmitted along with you NHS claims.
For practices on auto-updates, you will automatically be updated to this version.
Amendment No.162 to the SDR - Payment Reform can be found on the scottishdental.org website.
Acceptance dates
Both the new and old SDR's will run concurrently, allowing for original treatment codes to be used for courses of treatment (COT) with an acceptance date prior to 1st November 2023. Any COT's with an acceptance date on or after 1st November 2023 must use the new codes.
For help checking the acceptance date on a course of treatment, read Course of treatment acceptance dates.
New codes (A-H)
This SDR introduces new codes to replace existing ones, an overview of these codes can be found below.
| | |
| --- | --- |
| Code prefix | Overview of services |
| A | Extensive Clinical Exam, Review Exam, Unscheduled care assessment and Treatment, Xrays, Study models |
| B | Preventative care and Perio treatment, Childsmile, Fissure sealants, Perio assessments |
| C | Restorative treatment, Fillings (all types and materials), Endodontic treatment, Internal bleaching |
| D | Crowns, Bridges, Inlays, Onlays, Veneers |
| E | All types of Extraction (Surgical, Non-surgical, Advanced) |
| F | Sedation |
| G | Prosthetics (Dentures, Acrylic and Chrome), Splints |
| H | Domiciliary visits |
Please see SDR Amendment No.162 for the full list of services and codes.
All of these codes and services will only be available to chart from 1st November 2023 onwards, due to changes to the services. To reduce confusion when charting, all of these new codes have been added to a new service category titled SDR REFORM.
Tip: You may need to add this category to every user's list, to make it visible to users please see Configuring service categories for help with adding this category to a users chart.
This new service category includes all new codes and any codes that are not being replaced (including Orthodontic 3000 codes).
Tip: With your standard NHS service codes changing, you might want to update your quick charting or quick plans. Find out how in the Quick chart configuration and Quick Plans articles.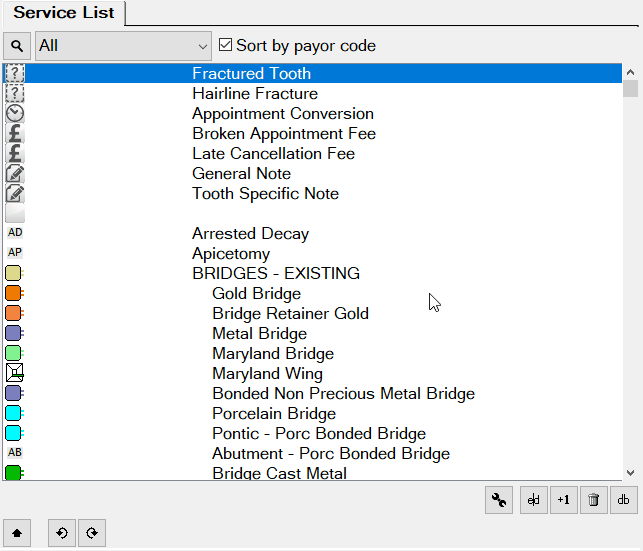 Please Note: The new SDR contains one code for multiple materials, to simplify the process in EXACT we have duplicated the same code for each material.
For example, there are three C001 codes with the descriptions stating the material.

Choosing treatment codes after 1st November 2023
Treatment started or accepted prior to 1st November
You should chart the existing codes. When charting these codes, a red x will be present on the chart tab. This is a warning that can be ignored for these COTs.
Charting the new A-H codes will cause the COT to be rejected by the NHS.
Treatment started or accepted on or after 1st November
You must chart the new codes, as present in the new service category SDR REFORM.
If you chart any codes replaced by A-H codes, a red x will be displayed as a warning that this is not the current code. Ignoring these warnings on claims with an acceptance date on or after 1st November 2023 will result in claim rejections and responses from the NHS.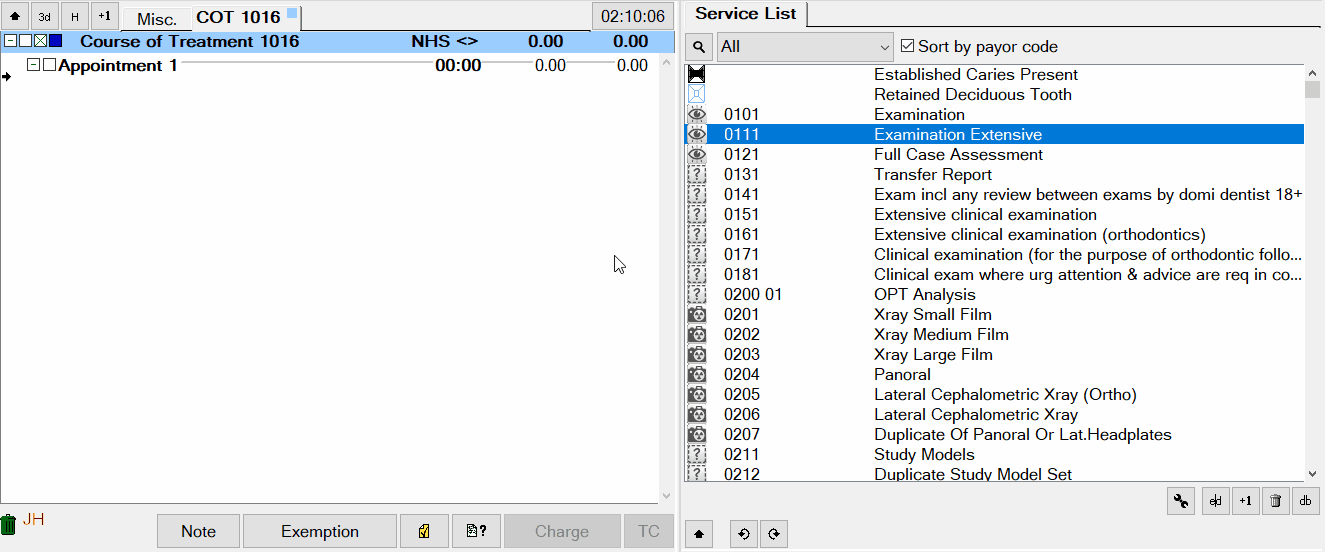 Changes in charting
To aid you in selecting the correct codes for the treatment being charted, the official NHS guidance information is available on screen when charting a service.
Select and chart a new treatment from the SDR REFORM service list.
Double-click the notepad icon on the service.

The NHS rules for this service will be displayed in a pop-up window
Use these rules to determine what/if any other services should/can be charted
Click OK to close the window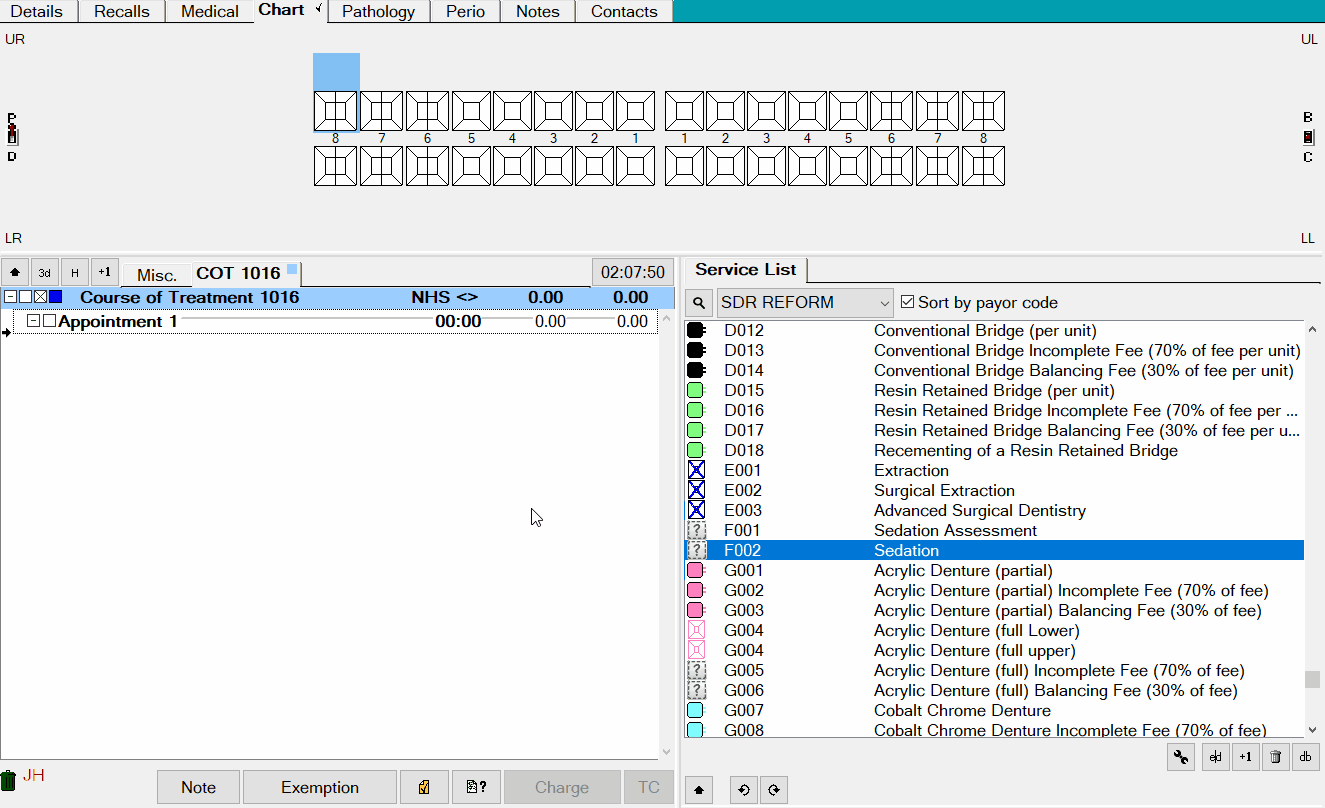 Additional information
Tip: If you are unsure what services are to be charted, please contact NHS Scotland for assistance. You can find the NHS contact details in the EXACT help centre.
Multi-surface charting
Treatment requiring changes due to multiple services will be auto-calculated in alignment with existing services.
For example when charting C001 on two surfaces, EXACT will change this to C002 for two surfaces.
C004, C005, C013, C014 & C015
When charting C004, C005, C013, C014 & C015, these can only be charted once per tooth, this information is available in the NHS Rules as outlined above.
EXACT does not limit the amount of times you can chart these services per tooth.
Full Acrylic Denture (G004)
This code must be charted on the correct arch and only charted once to get the correct fee and submission.
EXACT does not limit the amount of times you can chart this services per tooth.