Multiday appointment book
The Multiday appointment book gives you the option of displaying several (5, 7, 14 or 28) days of appointments at once instead of The Multi-Column Appointment Book which is used to show a daily view with each column showing the days Provider or Rooms appointments.
An example of the Multiday Appointment Book (Mon-Fri Columns).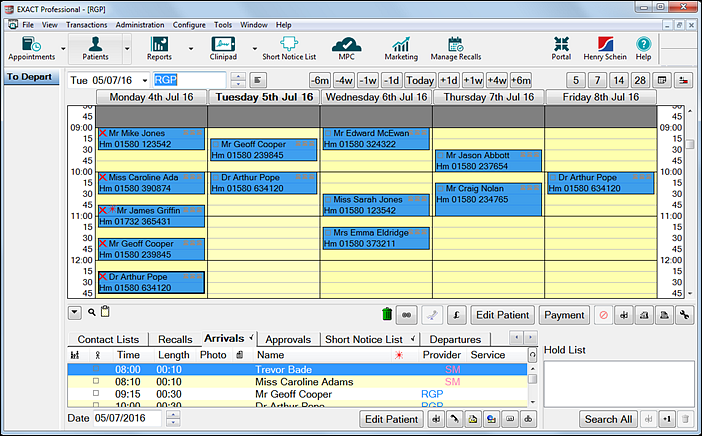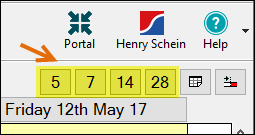 Opening the Multiday appointment book
File - Appointments - Multiday Appointment Book.

If you have an Appointment icon on the main toolbar, you can select Multiday from the drop-down menu.

Provider display/selection
The provider initials displayed at the top identify which provider appointment book is being displayed.
To change the selected provider, use the arrows, the list providers button or type in the initials and press the TAB key.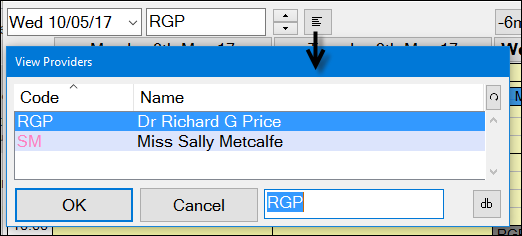 The appointment book displayed is updated immediately to reflect the new provider selected.
Days displayed

You have a choice of the number of days (and therefore) columns displayed. The example above shows the 7-day display.
You can also choose to display 5 days (the default), 14 days, or 28 days across the page.
Other buttons
On the right-hand side of the header bar are the following two buttons.


The first button displays the current provider's "View Month" window (appointments, blocks, breaks, etc.).
The second button is used to restrict appointment times by setting blocks and clinics and other times not available for general patient appointments. See Creating Blocks and Clinics
Please Note: If the appointment book screen is resized, the column headers may also switch between different date modes as appropriate for the column widths, depending on your screen size and resolution.

When in 14 or 28-day mode, there is not enough room to display all the information for the appointment, as these modes are intended to give you an overview of appointments for a fortnight or month, rather than detailed information. However, you can view a particular appointment's details by hovering your mouse pointer over the appointment, which will display a tool tip, as in the following example: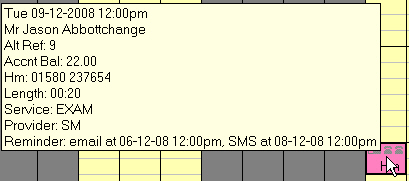 Provider Multiday Appointment Book configuration
To configure a specific providers Multiday Appointment Book,
Navigate to File - Providers - View Providers.
Select the provider.
Select the Appointments tab.
Under the heading Single Column and Multiday Book you can adjust Start/End Time and appointment length for the chosen provider.