Appointment Book Week View Colours and Appearance
The appointment Week View is located at the top of the appointment book, if you cannot see this, position your mouse just above the columns until the double arrow cursor appears then drag this down to the size you require.
It's a horizontal and top-level representation of the appointment book and useful for spotting available gaps and level of appointment activity without having to navigate and scroll through individual dates.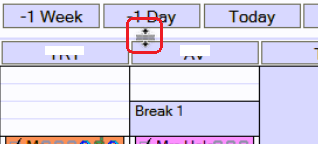 The buttons to the side of the week view can help you quickly jump forward or back weeks & months.

Go to Configure > User Settings to set the colour of the week view (This setting is per EXACT user).
The colours options are Booked Provider, Appointment Category or Patient Payor.