When a course of treatment is completed, this is available to be sent to the NHS for assessment. EXACT holds these until a transmission is carried out. These claims are then bundled together in claims bundles with these bundles being sent to the NHS.
You can read more about transmitting NHS England or Wales claims here.
Viewing transmitted claims bundles
You can view all claims bundles via,
Administration - NHS - Claims Bundles.
or
Clicking on the arrow next to the NHS workspace icon then selecting Claims Bundles.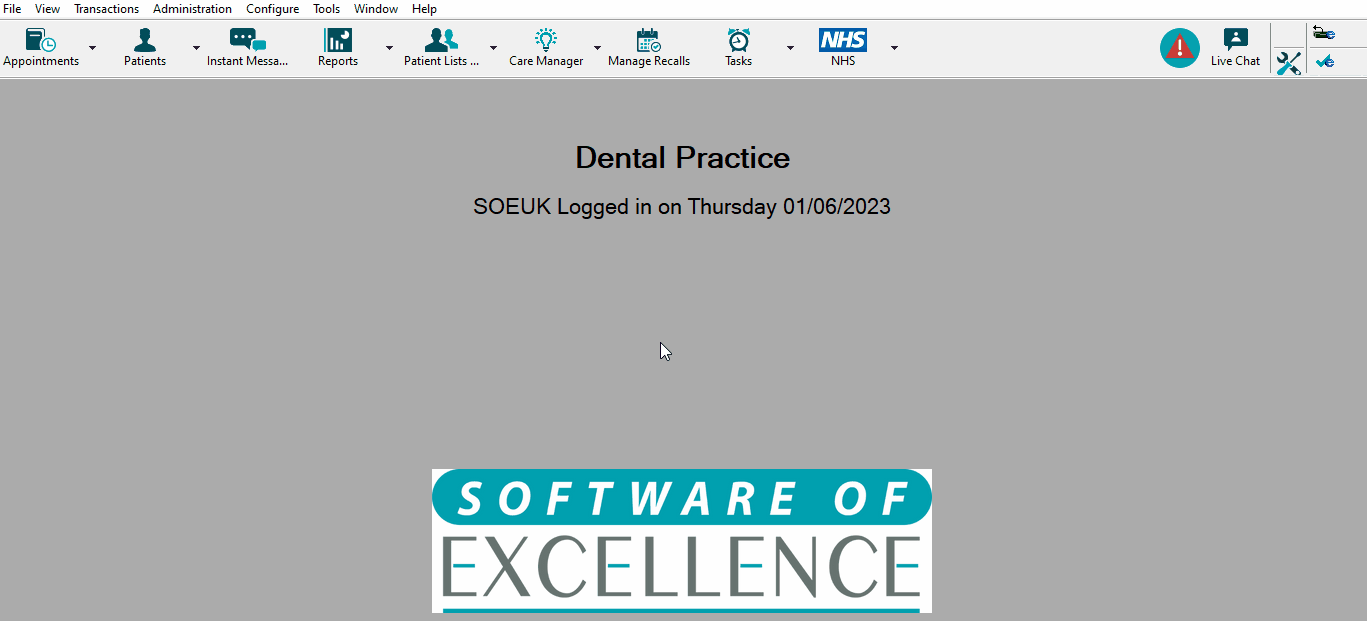 Status of a Claims Bundle
There are three icons to help you identify the current transmission status of a Claims Bundle.
If no icon is present, the Claims Bundles has not been transmitted, to transmit this, follow our transmitting NHS England or Wales claims help article.
The telephone icon is likely caused by the claims bundle having not been sent to the NHS yet. Attempt transmitting your NHS claims again, if the status does not change the NHS could be experiencing issues in their system, in this case, attempt transmitting again at a later point.
A red tick over the telephone icon without a black tick indicates the Claims Bundle transmission has been attempted, the NHS have not yet sent acknowledged of receiving the Claims Bundle.

Tip: If a Claims Bundle only displays the red tick status without a black tick after three further transmissions or 24 hours, further investigation is required, as this indicates a transmission problem has occurred with the Claims Bundle/s not being successfully delivered to the NHS.

A black tick shows the NHS have received and acknowledged receiving the Claims Bundles from you.
Note: Each time a connection to the Mailbox occurs EXACT will check for new messages. Claim Bundle Acknowledgement messages will be processed and the Claim Bundle Status updated as appropriate.
Therefore, if there are no updates to the status of a Claims Bundle, perform a transmission to push/pull in updates.
Deleting Claims Bundles
Please Note: The following steps should only be completed if advised by a member of the EXACT support team or the NHS.
If required to do so, you may need to release the claims from a bundle and transmit them again, if this is the case, you will need to delete the Claims Bundle/s then transmit the claims in a new bundle. The steps to perform this are,
Locate the Claims Bundle to be deleted, highlight the bundle by clicking on the row..
With the row highlighted, selected the Print button in the lower right (print to PDF will save you paper).
This printout can be used if you wish/need to confirm all claims have been added to subsequent Claims Bundles.
Select the bin icon in the lower right, confirming you wish to delete the bundle.
Repeat these steps for all bundles as advised.
Perform a transmission to add the claims to a new Claims Bundles to be transmitted to the NHS.