Setting the Paymentsense / Dojo Terminal to Integration Mode
If the payment terminal is not linking to EXACT it may be because it's in Stand Alone mode. To link with EXACT it needs to be in Integration Mode. See instructions below on how to switch to Integration Mode.
Payment Sense Terminals
From the home screen of the PDQ (Paymentsense / Dojo logo showing), press F4.

Enter the supervisor password (default is 123456 or 01483) and press ENTER.

Press F1 to turn Standalone Mode off.

Cancel out of the menu and the PDQ will restart into the selected mode.
Dojo Terminals
If your card machine is integrated with your point of sale (POS) system, you can set your card machine to accept payments three different ways:
Pay at counter (integrate with your POS by pushing bills to your card machine)

Pay at table (integrate with your POS by pulling bills to your card machine)

Non-integrated (payments that take place outside of your POS system)
To select Pay at counter and Pay at table settings:
1. Press the menu bar and click 'Settings'
2. Choose 'Integrated payments'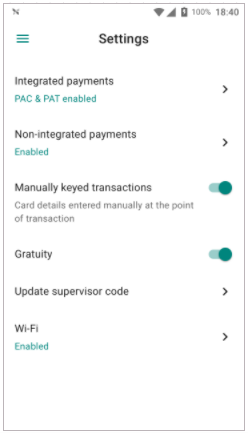 3. You'll see the 'Pay at table' and 'Pay at counter' options
4. Click into either option and adjust the settings as needed. This includes disabling or enabling email receipts for customers, or disabling or enabling print receipts for Pay at Counter transactions.