Cannot Connect to Clinipad Link Service (Tablet Error)
When Clinipad does connect to the link service when launching the app, try the following:
Restart the Clinipad Soei App on the tablet by closing it down in the background or go to the settings on the tablet and "Force Stop" the App from running. Restart the tablet to rule this out too.

Confirm the tablet is connected to the correct Wifi network and the Wifi connection is working (test browsing to a new website)

Re-pair the device by removing and re-adding the device in EXACT, see: Adding and Pairing a Clinipad Device

With the correct EXACT server IP address confirmed, download an app called "Ping" and enter the EXACT servers IP address and test the connection. If you see "Request timed out" please speak to your IT to help assist get the tablet/s connecting to the server over your Wifi network.
Cannot Connect to Clinipad Link Service (EXACT Error)
If EXACT cannot communicate with the ClinipadLink server you will see an error message:
"Could not communicate with the CliniPadLink Service. Please ensure that it is correctly configured and running."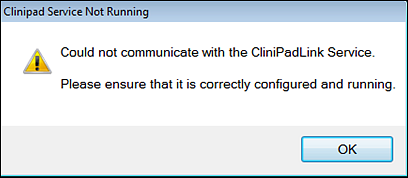 Log into EXACT as an admin user

Go to Configure, Settings and search for Clinipad

Check that the setting clinipad.webservice.server.computername says the correct server name or IP address. If it does not, change it then log out and back into EXACT

On the server computer, make sure the computer is on a private, work or domain network (Not Public). If it is on a public network or 3rd party software controls the firewall settings try adding in TCP inbound rules for ports 8082 & 8765.
Other fixes:
Clear DNS cache: Start > Command Prompt > ipconfig/flushdns
Check router DNS settings:
Log in to your router (the procedure varies depending on router make/model)

Check and then if necessary, correct your DNS settings on the router.
If none of the above work please note down what you have tried and contact SOE support so they can check the Clinipad Services and troubleshoot further.
Release locked devices
When a patient is locked on a Clinipad device an Administrator-level user can release the lock.
Note that this process may mean losing some patient data entered onto the device.
Open the Clinipad Configuration screen via Administration > Clinipad, In the Clinipad tab below the Appointment Book or Select the Clinipad icon in the workspace bar (if it has been added to the workspace bar), then select the Spanner (Setup) button in the bottom right corner

Locate the locked Clinipad. You should see a Release button on the Clinipad tablet box within EXACT. Click the Release button to close the connection between Clinipad and EXACT.

Click the Return button in the Clinipad tab or desktop

Ignore the error message: "Failed to release Clinipad device" (it has already been released).