Creating a Security Group
Security configuration within EXACT helps configure groups of users to only access areas and settings that are relevant to their roles.
EXACT will have been configured with security groups when you first had EXACT set up but sometimes roles can change and new roles can be created which require different access to other staff members.
Please Note:

EXACT Users ticked as Administrator in Configure, User settings have full access to

EXACT and are not restricted by any security settings even if included in a security group.
Creating a new Security Group
Configure - Security.
In the security window click on +1.
Enter a code that will help identify the users this group is for and a description of the new security group.
There are hundreds of security options so we recommend you start by copying an existing security group and change the security as required from there.


Tip: Alternatively, you can choose All On to tick everything and disable things one by one or start from nothing (All Off) ticking only what access is required.

If you click Copy Security, select a security group and click OK.
Tick/untick any options you want or don't want the user to have access to (scroll down or click here for an explanation of how the security access function in EXACT).
Once you have configured the security group click OK to save the group.
How Security access works
EXACT security options are grouped in a tree (Parent/Child) format, with each item listed on the furthest left being a main category.
Subcategories are shown when the tree is expanded (by clicking on the + next to it). The tree structure closely follows the Menu structure of EXACT.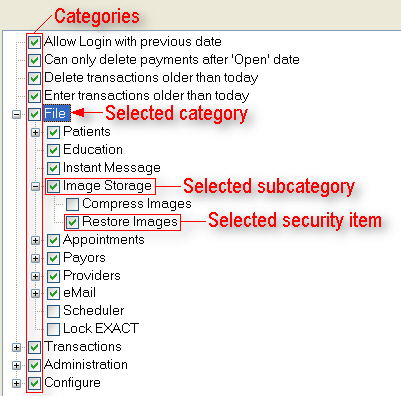 Access to EXACT menu items, features and processes is set up via a security tree. If a security group has access to an item, that item will have a tick in the check box next to it.
If you do not want the security group to have access to options in a main category, do not tick the box for those options. If the Security Group should have access to all/parts of a main category, the box next to the category needs to be checked as well as the box for each of the items they are allowed to access.
For Example: If a security group should have access to Take Payments the group needs a check in Transactions as well as Take Payments.
If this same group should not have access to any of the Administration options, the parent group should not be checked.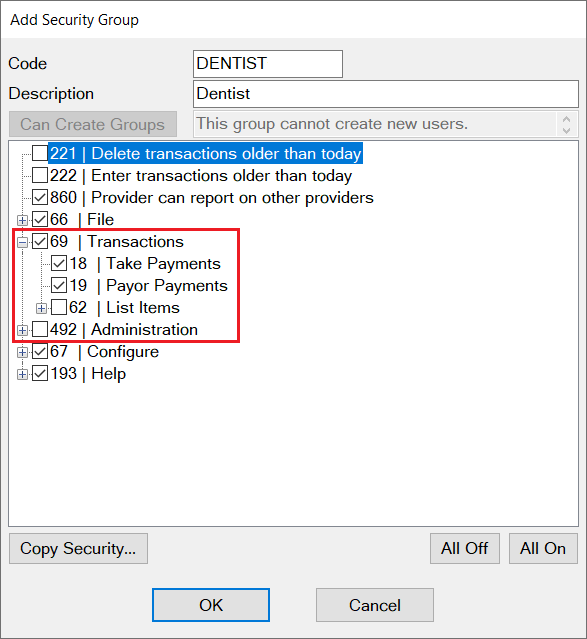 Can Create Groups option
By default, users can only create other users that belong to that security group, this is to stop users creating a user with a security group that gives them access to areas of the software they are not allowed.
However there is an option in the security window that allows users to create users for different groups. Under the Configure - Security area there is a Can Create Groups option. Selecting this will allow a user to select which security group they can create users for.
On the right are the security groups they can create users for and the other groups on the left. Using the arrow options you can move a group to the right to allow access or move to the left to restrict access.