Clinical Effectiveness Report
This report is designed to show the effectiveness of the practice in treating patients by showing how many subsequent treatments were required for a particular type of service.
Go to Administration -> Reports and select 'Clinical Effectiveness':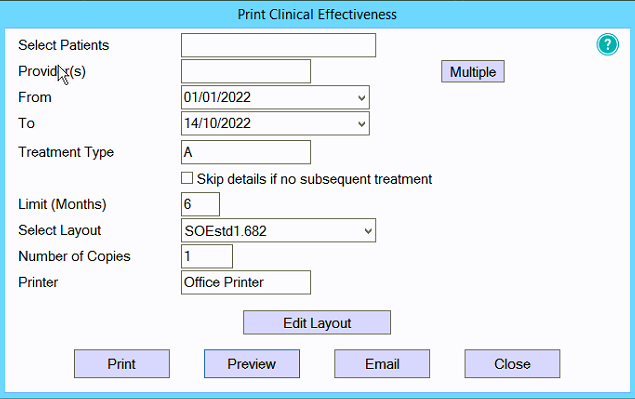 By using the 'Select Patients' field, a query can be selected or defined for the patients within the 'From' and 'To' range, making it possible to print this report for selected groups of patients as defined in the query.

Leaving the Provider field empty will print a 'Clinical Effectiveness' report for the entire practice; however an individual provider can be selected from the list by using the button

Clicking the button will allow printing for a combination of Providers.

The 'From' and 'To' date fields are used to define the date range for the report.

The 'Treatment Type' field is a required field used to select the service item concerned.

Click in the field and use the button to make a selection.

Placing a tick in the check box next to the 'Skip Details of no subsequent treatment' will filter out all patient details if there has been no subsequent treatment for that service.

The 'Limit Months' field is used to exclude subsequent treatments that occur after a reasonable period and will default to 12 months.

The standard option buttons for printing reports are available.

The example below shows a 'Clinical Effectiveness' report for amalgam fillings performed by all providers at the practice during a specific date range, and shows one subsequent treatment out of seven initial treatments.