Printing/Emailing patient details (inc charting and medical)
You can print and/or email patient details from EXACT, this article covers how to do this.
The steps to do both are the same, until the final step.
Printing/Emailing patient details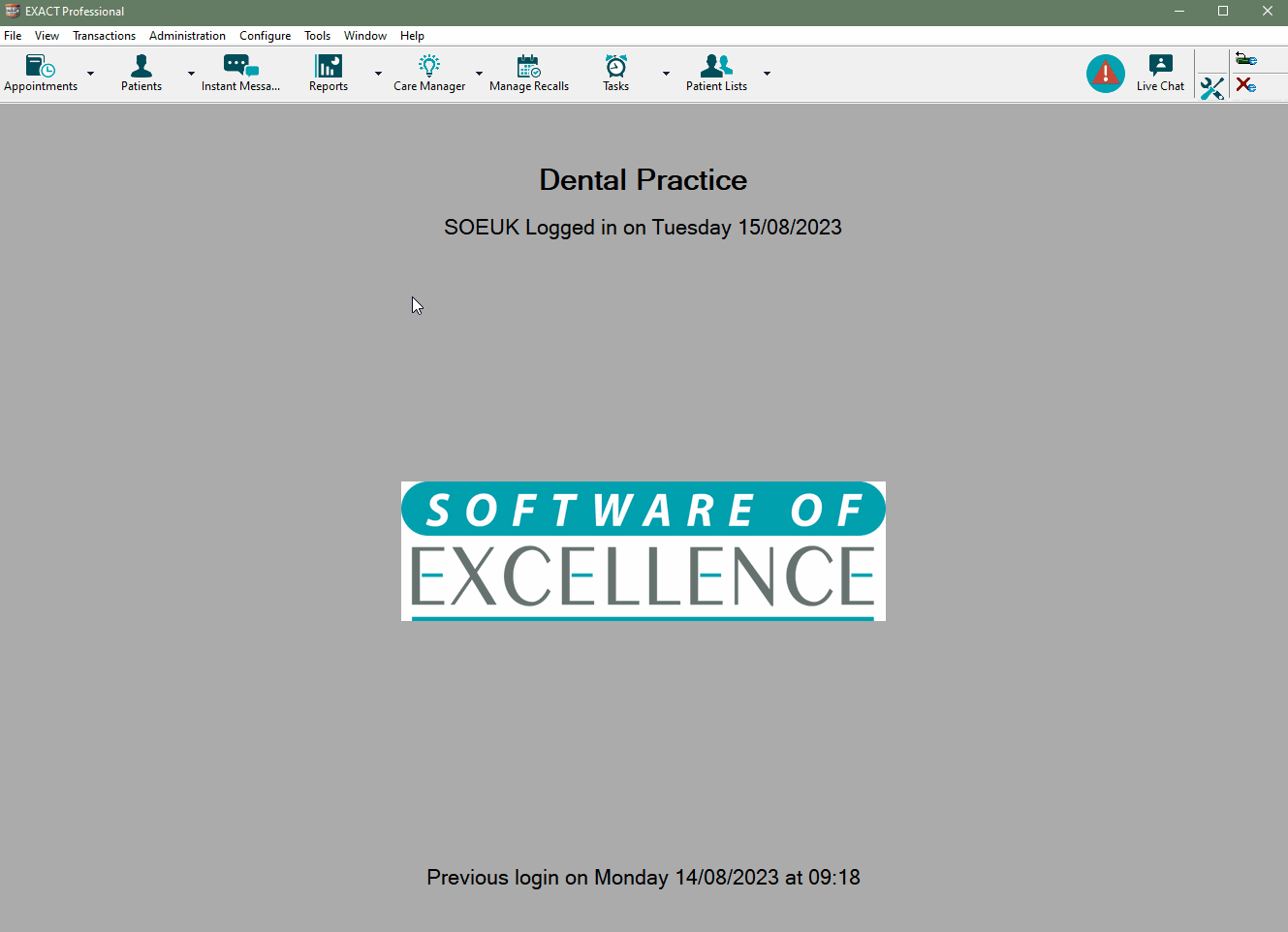 Select the desired patient from the patient details screen.
Select the print option along the top of their file.
A Print Patient Details window will open. Here you can select/deselect the details you require.


Tip:You can view the details rather than printing them by selecting the Preview

 

button. This option is useful for seeing what each of the report options does to the printed output before you make your final selection and click the Print button.

The patient's basic details (name, date of birth, address, contact details, last recall date) will be printed. In addition, any or all of the following options may be selected to be viewed or printed out:

Print patient medical: Select this option to print a summary of the patient's medical details, including medical history, their medical record (or a note to say if it has not been initialised); any infectious notes, current medication, and any medical notes.
Include all medical history: This is intended for audit purposes, and not for transferring data to another clinician.
If you check this checkbox, the printout will have ALL historical medical history entries, including those that were changed within the same day (whether from error correction or update).
Print patient notes: This option will print any patient notes (as recorded on the Notes Tab of the Patient Details window).
Print patient transactions: Select this option for a summary of the patient's transactions, including invoices, receipts, estimates, etc., and what treatment the transactions relate to.
Include prices: Show the prices of services on the report.
Print treatment history: Click this option for a summary of the patient's treatment history, including historical and current treatment and their charges. If you wish to include individual Chart only items (those items recorded on a patient's chart to represent existing conditions), and/or voided treatment items, click the appropriate checkbox.
Print tooth chart: Click this option to print a representation of the patient's tooth chart, using the checkboxes to choose to show either deciduous or permanent teeth or both.
Include DMF scores: Click on this checkbox if you wish to include the patient's DMF (Decayed, Missing, Filled) scores from their Perio tab.
Include BPE scores: Click on this checkbox to include the current patient's Basic Periodontal Exam score in the Patient Details report.
Print patient appointment history: Tick this option to display/print the patient's appointment dates, times, which provider the appointment was with, and the appointment status.

If you require more than one copy of the printout, click in the box and change the number displayed.
Once you have selected what information you want you now have 5 buttons/options:

Print: Print out the selected information
Preview: Preview on screen the information to view this. From here you can print it, you also have the option of printing a certain page.
Email: Will open up the send email window and add this information as a PDF attachment. This is where you would send to a specialist if required. If you need to email a copy of these notes to a referral or other 3rd party source, they will need to be added into your EXACT as a specialist/referral source. The instruction on how to add their details can be found here.
Export: Will export the report from EXACT as a 'csv' file, to be opened by other applications such as a spreadsheet program.
Close: Exit the Print Details window.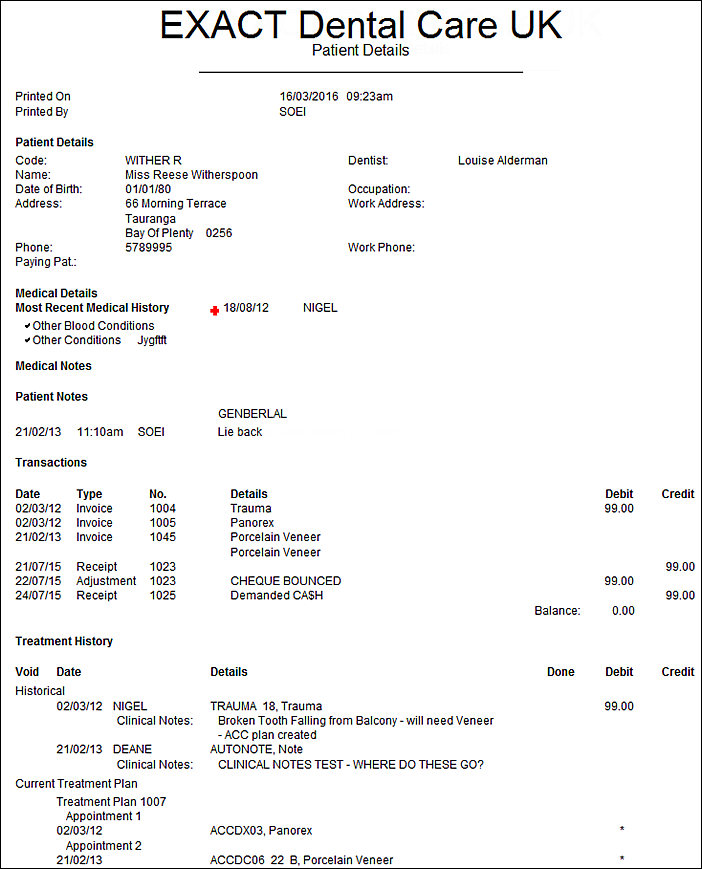 Emailing patient X-Rays
Please refer to the help article: Sending X-Rays via email.