Preferred payment terminals (for use with integrated payments)
Preferred terminals gives you the ability to configure the terminal your practice (or user, depending on your configuration) uses as it's default payment method.
With a clear understanding of which terminal your transactions will be sent to, you can direct your patients to enter their payment method into the right terminal, every time.
Please Note: Preferred terminals can only be configured for practices with more than one terminal.
The configuration is determined by your password management, with Cloud Authentication enabled your preferred terminal is set per computer, with this disabled it is per user.
Configuring your preferred terminal
The first time this setting is enabled for your practice, you will be prompted to set your preferred terminal. This will present itself differently depending on the security option your practice has enabled for password strength, with Cloud Authentication enabled it will only appear once per computer, if it is disabled it will appear once for each user.
When processing a transaction you will be prompted to select a terminal.
Click on the drop-down menu to select your preferred terminal.

Select Yes in the second drop-down menu to save this option
or No if you wish to select a different terminal.

This will set the preferred terminal as per your practice setup.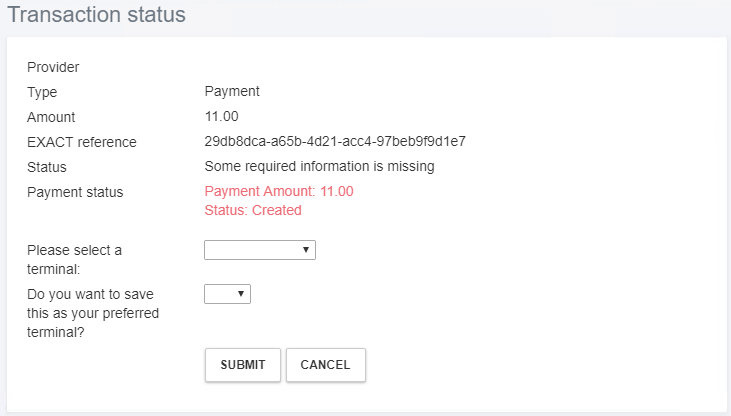 Changing your preferred terminal
After processing a transaction you will be presented with the option to reset my preferred terminal, click this button.
The next transaction you process will now be present you with the option to select your preferred terminal as per the steps above in Configuring your preferred terminal.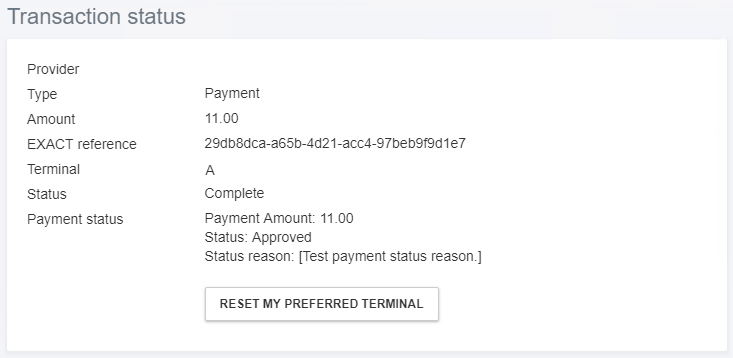 Tip: To check your practice configuration, go to Configure - User Settings, at the top of your user settings screen is the option for Cloud Authentication, if this option is ticked, it is enabled.
Cloud Authentication enabled
With this password security setting enabled you will have your preferred terminal configured per computer.
The benefit of this option is seen when you have multiple reception computers, allowing you to set the computer to send transactions to the nearest terminal.
For example, if Terminal 1 is connected to PC 1, you can set a preference so that all payments initiated from PC 1 are directed to Terminal 1.
Cloud Authentication disabled
With cloud authentication disabled, your preferred terminal is configured per user.
Terminal preference is unique to each individual's login. For instance, Sandra can select Terminal A as her preferred terminal, while Josh can choose Terminal B as his preferred terminal, provided each person logs into EXACT with their own login credentials.