Appointment arrival options - Oral Health survey
Oral Health surveys can be collected as part of the arrival workflow, helping to gain useful information about patients and their oral health.
Configuration allows the survey to be enabled/disabled, how regular, who receives it and which questions patients are presented.
Configuring Oral Health survey options
Select Configure - Appointment Book, and in the Appointment Book Setup screen, select the Arrival Options button to display the Appointment Arrival Options window: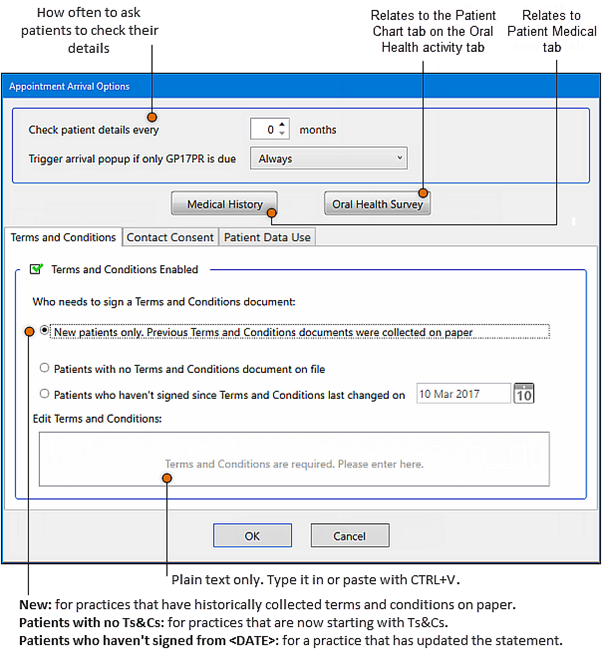 In the Appointment Arrival Options window, click the Oral Health Survey button to open the Oral Health Survey Configuration.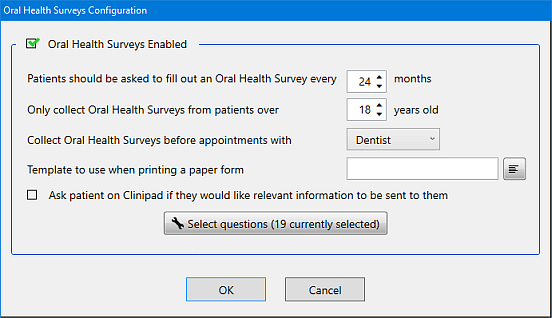 From here you can enable/disable the Oral Health Survey feature, determine how often the surveys should be filled out and by who.
You can also choose a paper version to be printed if you don't have CliniPad.
For anyone using CliniPad you can decide to ask patient if they would like product information sent to them regarding this and choose the question you ask.
Please Note: No matter the configuration of questions set in this configuration, Patient Portal will always ask all questions or none if disabled.