Setting a Recall on Treatment Completion
When a Provider completes an appointment, EXACT prompts for confirmation of the patients Recall details if that provider has the relevant recall prompts enabled in File, Providers, Appointments Tab.

The Provider can reject or edit suggestions before confirming the recall details.
To set the Recalls based on
EXACT suggestions
When completing a patients appointment by charging, TC'ing or saving a patient file (if this setting is enabled in User Settings) the following box will appear If the patient is setup and due for any recall appointments.

The words in red text are suggestions from EXACT, following the treatment that the Provider is now completing.

There are three possible actions to perform with the screen:

Edit the suggested changes by means of the blue hyperlinks.

Reject the suggested changes by means of the Pause button.

When the recall details are correct, click the OK button.

To reject these changes, select the Pause button and then click OK.

To edit these recall details, click the blue Recall hyperlink/s, for an Edit Recall Detail screen, change the fields, then click the Update button:

To accept these suggestions and/or any edits that you made, simply click OK.

The information will then be updated in the Recalls Due area in the Patient's Recalls Tab.
Other:
If you set the recall to Do not recall patient...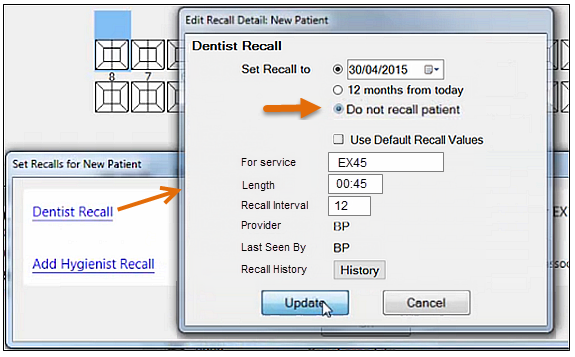 ... then the recall details screen will include both toggle buttons, enabling you to either reject suggestions or reinstate the previous suggestions: