Deleted Transactions Report
The Deleted Transactions Audit report enables you to list Receipt and Invoice records that have been deleted during a specified period.
Deletion usually occurs by mistake, but this report enables checking in cases of fraud, or to see how many errors are being made during patient payment.
Note: The period in the Report (as defined by From and To dates) applies to the date the transactions were created, not the dates on which they were deleted.
To Run the Deleted Transactions Audit Report
Go to Administration -> Reports and double-click Deleted Transactions Audit.
The Print Deleted Transactions Audit window displays: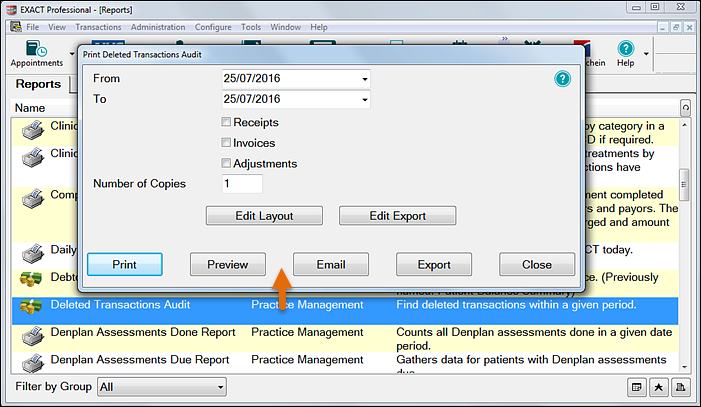 Set the report date range by means of the From and To fields (default is today's date)

NOTE: These From and To dates apply to the date the transactions were created, not the date on which they were deleted.
To overwrite, enter a new date, select a date / period from the drop-down menu, or use the button to select a date from the calendar.
Choose what type of transactions you want to see: Receipts, Invoices, Adjustments
Click Print to send the report directly to the printer, or
Click Preview to preview on screen and then print from the Preview screen, or
Click Email to email a copy of the report to an email recipient (if your system is set up for emailing), or
Click Cancel to return to the previous screen.