Invoiced treatments report
This report is used to summarise services invoiced to patients. It collates the information from invoices within a specified date range. The resulting report shows the following:
Service code and description
Total number of items invoiced
Total Time
Average time
Hourly rate
Average Fee
Total Fee
The % of total revenue the invoiced treatments represent
Service costs (if any)
Adjustments made to invoices (show as negative amounts)
The standard option buttons for printing reports are available.
Note: In an Invoiced Treatments report where an invoice and its associated resubmission are not both included in the report date range, you may see what appear to be anomalies, such as a negative figure or a zero fee, time, or count.
For example, you put through a crown one day, but realising your mistake, you put through the correct type of crown the following day. If the two days fall in two reporting periods, the first reporting period will show the first type of crown done, and the second reporting period will show a negative amount for that crown.
This is because for reporting purposes the resubmissions are counted at the time they are done, not at the time of the original Invoice.
Also note that Adjustments do not count as resubmissions.
Running the Invoiced Treatments report
Select Administration - Reports - Invoiced Treatments to display the Print Invoiced Treatments window: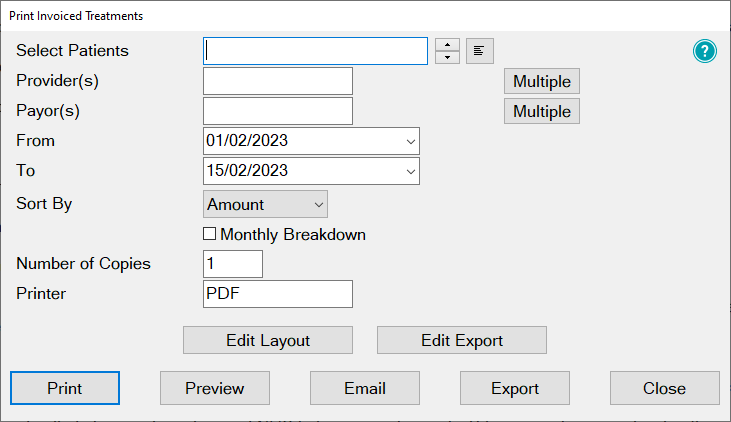 Select Patients
Besides normal selection, you can optionally create or select a query, making it possible for the report to select specific groups of patients as defined in the query.
Provider(s)
Select a provider by means of the button to print the report only for that provider.
Leave this field blank to print an Invoiced Treatments report for the entire practice.
Use the Multiple button to select a combination of Providers.
Payor(s)
Select a Payor to report on invoiced treatments for just that payor, or leave the field blank to report on all payors, or click the Multiple button to select a combination of Payors for the report.
From / To
Define the date range for the report.
Sort by
Select the primary sort order from the drop down menu (Service Code or Amount).
Monthly Breakdown
Check this checkbox to produce output broken down by calendar month (First day of the month to last day of the month).
Helpful tip: This is useful for the Export option, when the practice wants to graph trends in amount of elective surgery done over periods of several years.
Caution: Do not use this option if you are reporting across two calendar months; for example if you are reporting on a one week period that starts in one month and ends in another month.
Select Print, Preview, Email or Export (Export produces a file suitable for importing into a spread sheet application).
The following example shows an Invoiced Treatments report for provider 'SS', for all Payors, sorted by Service: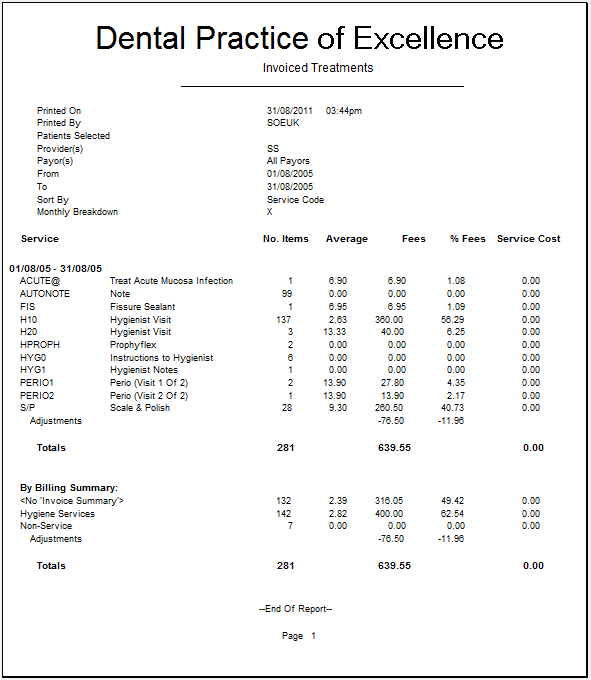 Allocated Payments Vs Invoiced Work By Owning Dentist
A: We do not recommend comparing reports within EXACT as each report compiles information in different ways.
The 'invoiced work by owning dentist' report looks at invoices created within a specific time period.
The 'allocated payments' report looks as invoices paid within a specific time period.