Updating Practice Information
Your practice details can be updated in EXACT by going to Configure, Practice Information.
From here you can update the Practice address, Phone numbers, Website, Logo shown on the background of EXACT (.BMP format) and NHS location number.
Please notify accounts.change@soeuk.com first if your practice name and/or address has changed so that we can change this on our records.
The practice name must be changed by SOE and we will be in touch shortly after receiving the above email. Editing the name will deregister all of your modules and stop them from working (Email, SMS, Online Booking, Patient Portal etc).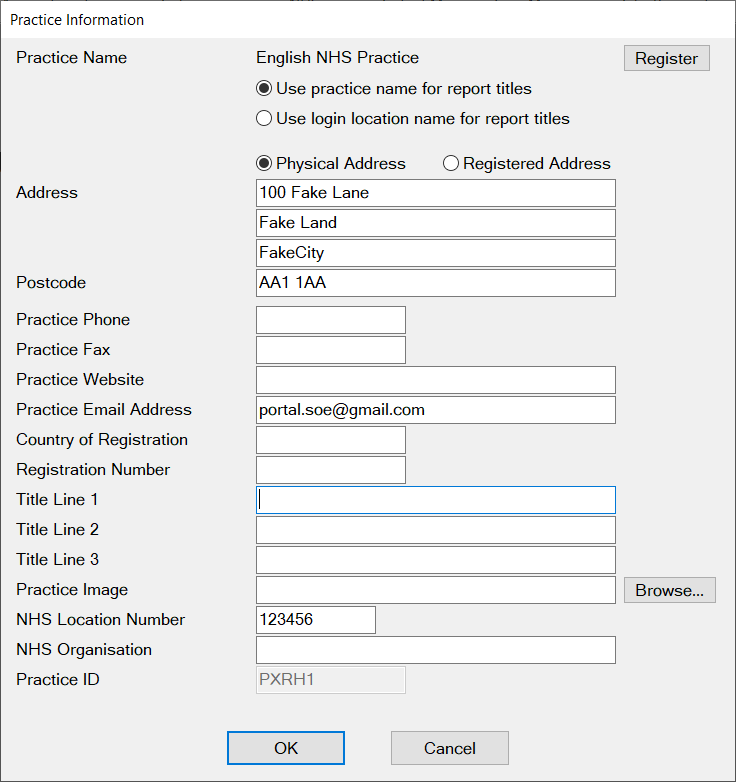 The practice address is important when using Online Booking as Google uses the address to determine what shows up on the Online booking page to your patients. See Online Booking is showing the wrong Google Maps location for my practice
If Locations is enabled you will have 2 options
Use practice name for report titles

Use login Location for report titles
This allow you to have different Practice names on your documents depending on which one you chose on login.
To update your Practice Image click on browse, find a locally stored image (.BMP files only) and click Ok.
If you include a practice logo on your email or letter templates then you will need to edit each letter by going into the list of available letter templates from any patient file and editing the template and pasting the logo into your desired location on each letter template. See: Creating, Importing & Editing Letter Templates
for editing email templates see: Create/Editing Email Templates
Practice ID can only be edited by SOE. This ID is unique per practice and links to SMS, Easypost and other EXACT features.