Appointments are marked as Failed to Attend (FTA) automatically when it reaches midnight on the day the patient failed to be ticked in as arrived on their appointment. Admin users and those with sufficient security permissions can mark previous appointments as completed if an appointment has been incorrectly left and marked as an FTA.
This Was Not Brought button was introduced in V13.12 in response to the new guidelines in England that safeguard Children and Adults that are vulnerable.
Identifying and tracking 'Was Not Brought' appointments assists with fulfilling SAFE guideline requests - see section 3.3.2 - Recording Missed Appointments of the Safeguarding in general dental practice document from Public Health England.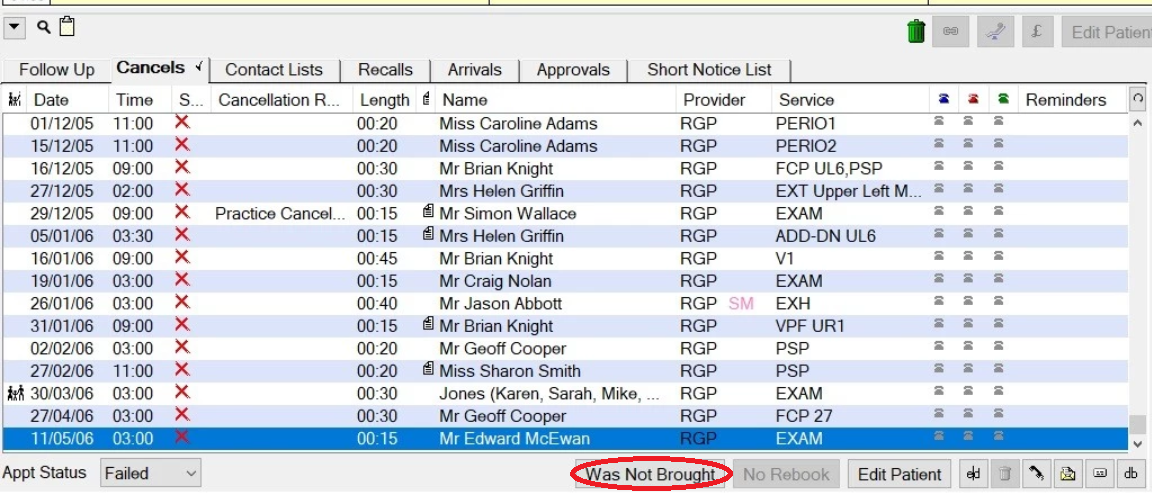 Button text FTA displays for any marked Was Not Brought
Any "FTA" appointment can be changed to "Was Not Brought". You can change a WNB back to FTA if needed. Both Cancels tab and Appointment Book entries will display either red X (FTA) or new blue X (WNB)