Sending a Patient an Email
To send a patient an email open the patient file that you wish to contact
Click on the Email icon

at the top of their file.
In the window that appears you can select the following: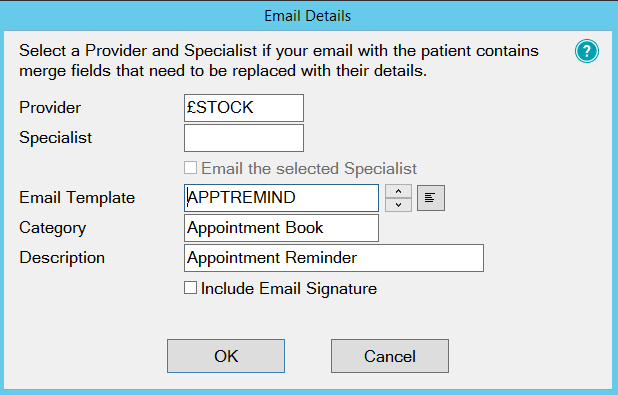 The Provider and Specialist fields are used if there is any Provider or Specialist merge fields in the chosen SMS template. Adding/Editing a template is covered in article Creating/Editing Email Templates .
There is also an option to email the specialist instead if it is an email for that specialist but referencing that patient.
Category is the category it will listed under in the patients contacts tab and description informs the user what the message was about. Its important to note that the description entered will be used as the Email subject.
Email Signature: If you have a Email Signature already setup this field will available for selection. Tick this box to add the email signature to the bottom of the email. If you want to create a practice email signature (best for when writing blank emails or replying to emails) see Creating an Email Signature
After clicking "ok" you will see the draft email screen. This will pre populate the fields it can like email addresses for the patient and specialist (if one was selected and the email box was ticked). If an email template and signature was selected this screen should now show the email template as well as populating any merge fields with the relevant information.
You can amend the text, add images etc using the buttons available on this screen as well as attaching patient documents/images or even files stored outside of EXACT that are located on the computer.
There are options to CC and BCC in additional Email addresses if required.