Managing your Email mailbox
EXACT provides an Inbox, Outbox, Sent and Deleted section. From here you can check and action any incoming messages, look for any messages ready to be sent or sent and deleted items.
Viewing your Email mailbox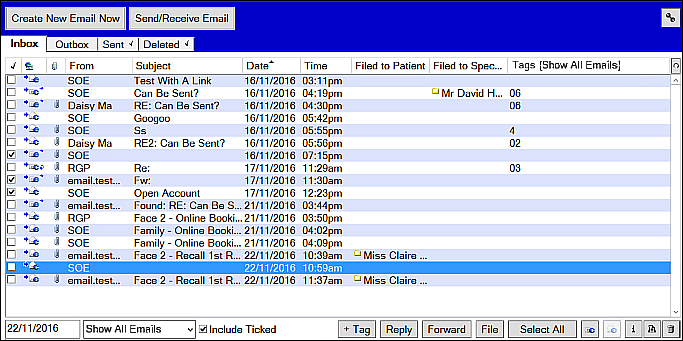 To view your

 

EXACT mailboxgo to File - Email
This will open the Email window with the inbox open by default.

You can click Send/Receive Email to send any messages in your outbox and check for any incoming messages into your inbox
The inbox will show all unactioned emails with latest email at the bottom of the screen
Any messages in bold have not been read yet
EXACT will show you the date and time you received, what email address it came from and whether its attached to a patient file. EXACT will automatically attach this to a patient/specialist file if that email address belongs to that patient.

Double-click any message to open it and from here forward or reply to the message.

You can also file the message to a patient if this has not been done or done incorrectly

For any actioned messages you can check the box on the left hand side to hide them from the list. You can display the whole list by clicking on Show Ticked
You can also delete messages by highlight a message (or multiple by using the ctrl key) and clicking on the bin icon (Delete the Selected Inbox Item). This will move the message from the inbox to the deleted section.
Email Tags
Tags is a feature that can be used to identify inbox emails that require action or to be highlighted to members of staff.
Adding a tag
Highlight the email you wish to add a tag.
Select +Tag or right click and navigate to Add Tag

This will display a list of previously used tags. To crete a new tag, type directly into the blank field to add to the list and to the highlighted email
Any tags added will display under the Tags list on the inbox tab
Removing a tag
Highlight the email you wish to remove the from.

Either select Remove Tag to remove an individual tag or Remove All Tags to remove all
Managing your inbox
It is recommended you manage your inbox and keep it tidy by hiding or deleting actioned items.
Click on the

 

Outbox tab

 

to see any outstanding messages ready to send.

Click Send/Receive Email Now to send messages.

Any message without a Ready to send status will not be sent and is either waiting for something from EXACT (could be a delay) or has failed (This can be an Online Booking Failure synchronisation)

When the message is sent it will be transferred to the Sent Tab



Here you can view all sent messages and if using SMS see the phone status to see confirmation the message has bee received
Any deleted messages, regardless of whether it was deleted from Inbox Outbox or Sent, will be transferred to the Deleted tab

From here you can movethe message back to the inbox by highlighting the message and clicking Move. You can also delete a message. Note that deleting from here will delete it permanently.