Patient Triggers (alerts) & Toolbar Colours
To alert users to certain conditions on a patient's record, toolbar colours can be set that display when the patient record is open, or pop-up notes can be displayed.
Patient Triggers provide the ability to define the conditions which will 'trigger' a system action to display an alert message. The feature uses the Patient Coloured Toolbars, the Pop Up Notes facility and query functions to pop up preset messages when certain query conditions are met. These conditions could be things such as the patient being a certain age, or not having had an appointment in the last two years.
When a patient record is displayed in EXACT, a query attached to a message is evaluated and if the query conditions apply then the message appears.
When a patient record is loaded to be displayed on screen, the toolbar triggers are evaluated as normal, stopping after the first successful match, in which case the appropriate toolbar colour is displayed. The order of the triggers can be changed with the most important colour notifications being placed at the top.
When navigating to the patient file any Pop Up notes created by a trigger can be temporarily closed but they cannot be de-activated.
Setting up Patient Triggers
Patient Triggers enable you to either pop up custom notes or change the colours of the top and bottom toolbars when the selected Query activates.
To access Setup Patient Triggers
On the Configure > Patient File screen, click the Setup Patient Triggers button (formerly called the Set Toolbar Colours button).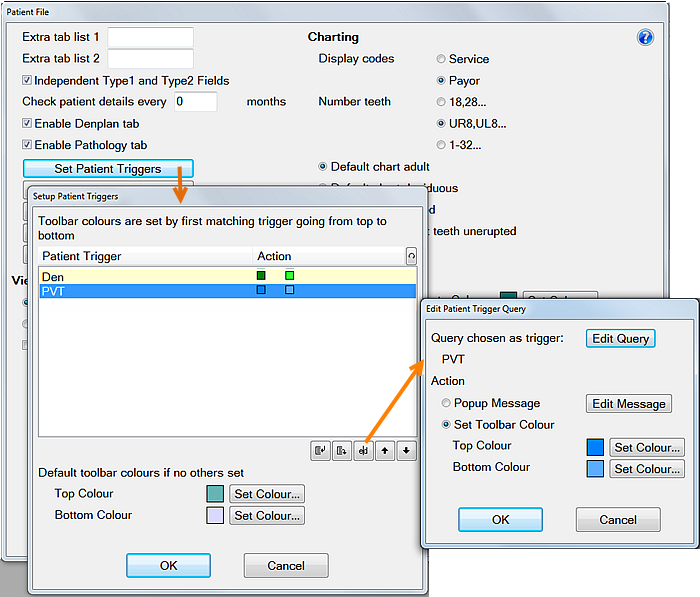 To Add a Trigger:
From the Setup Patient Triggers window, click the Insert into List button:

Select a query from the View Query Templates window and populate it if required, as shown below:

If the query you require is not present in the list, you can add one. We cover query creation in Creating and Editing Queries

If you have added a new query to the list, the Edit Patient Trigger Query window will open.
Otherwise, with the required query highlighted, click on the Edit Patient Trigger item button:

This will open the following window:

Choose whether the trigger activates a popup message or sets the toolbar colour.

For toolbar colour, use the

button if the displayed colour is not the one you require.

If you choose the Pop-up Message action, you will be warned if:

You try to close the window without first setting up the message, or

The message you have set up is blank.

Clicking on the Edit Message button will display the Edit Popup Note window:

Add or edit the message text as required, and click on the Show this note... option(s) that you want.
These are not mutually exclusive (you can choose as many or few as you wish), and function the same way as regular pop-up notes.