Automatic appointment follow-ups
This feature enables EXACT to automatically send communications to patients after their appointments via SMS, Email and/or EasyPost.
Creating automated follow ups to a patient appointment 
Access the configuration wizard from Configure - Automatic Appointment Follow-ups.
The Automatic Appointment Follow-ups Wizard will open.
Select Next> to display the configuration options. In this screen you can create up to three follow-ups with various options.

Type - Method of communication, Email/SMS/EasyPost

Sending after - How long after the appointment set by Hours/Days/Weeks.

Template - The template to be sent to the patient.

Select patients - This would be defined by a patient list to send only to patients that meet pre-determined criteria.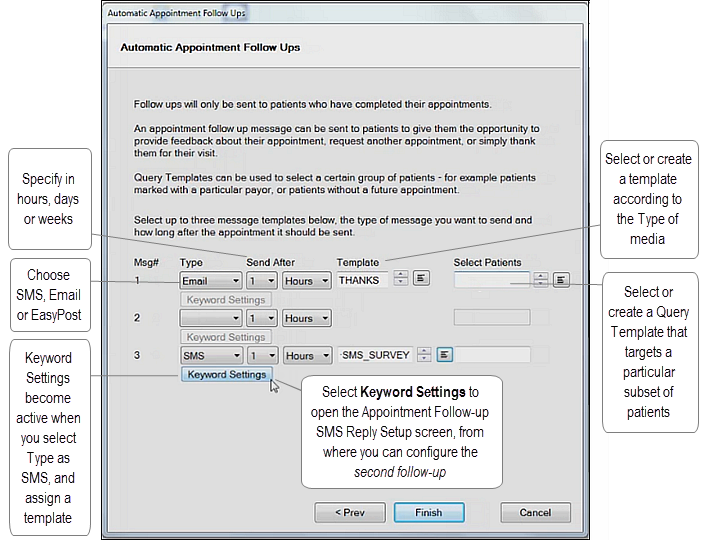 Considerations
The query entered will be triggered when the appointment has been completed, so any date filters must take that into account. For example if you wanted to send some information to a patient 7 days after a completed course of treatment (COT) the query would be Completed Courses of Treatment Today rather than 7 days as the query will activate when the appointment is complete rather than 7 days later.

EXACT will only send one follow-up message per day, even if three are configured. This caters to a situation where the patient has both a Dentist and Hygienist appointment but receives a single follow-up rather than duplicate follow-ups.

Follow Ups only trigger for completed appointments. Cancelled or failed appointments will not send any automated messages.
Note: When you 1. create an

 

SMS

 

follow-up and 2. Assign an appropriate template, the Keyword settings button is activated, and you can opt to select this in order to Configure

 

EXACT's second follow-up.
An Example of using automatic appointment follow-ups
One hour after after patients have had a tooth extracted,

 

EXACT can initiate an EasyPost after care brochure on tooth extraction, to reach them within an estimated 2 - 3 days
and
Two days after patients have had a tooth extracted, EXACT can send them a courtesy SMS with brief instructions for care
and
Three days after patients have had a tooth extracted, and once they have likely received the courtesy SMS and the After Care EasyPost brochure, EXACT can send them an SMS survey requesting keyword-feedback on the quality of their appointment.
SMS follow-ups
One of the benefits of using SMS as your follow-up method is that secondary follow-ups can be configured using SMS keywords to prompt for further information.
EXACT users can also track SMS follow-up responses per patient by using the SMS Follow Up Responses Report as a management tool. The report can be found in the Reports feature.
Configuring the optional second follow-up
The second follow-up is an SMS response to an SMS keyword received from the patient from the first appointment follow-up.
To configure the second appointment follow-up SMS reply access the configuration screen from the Keyword Settings button.
SMS follow-up report
This report only applies to SMS Follow-up responses with keywords enabled. It is designed to capture feedback from patients by asking to reply with a number rating based on the treatment they receieved.
Running the report
Go to

 

Administration

 

-

 

Reports

 

then select

 

SMS Follow-up Responses.
Specify print parameters.


Select the Provider(s) via the selection button or Multiple option, leave this blank to select all providers
From and To for selection a date range of responses
Number of Copies
An example of the print out.