Dental Referrals Button Installation
Installer File - drlink-Install-32bit.zip
Dental Referrals Link Button Installation Notes V1.1, Revised 18/03/21
Requires EXACT Version 12.7 or above
The Dental Referrals link button utilises EXACT's generic link button capability to launch a script that in turn launches your default web browser to display the Dental Referral portal. The user is then presented with a choice of referral forms, which once selected will be prepopulated with basic patient information.
Installation PART 1: Creating the DR EXACT Product Licence
Log in to

EXACT on any machine with Admin privileges or as a user that has access to.

Configure > Practice Settings > Product Licences
Select "+1" to add a new Licence. Under Product Name enter "Dental Referrals"
Under the

key

enter the following licence

key (same for all customers)
c6e33d4a-f358-4b89-a666-ba96f5067407
Please leave the access code blank

( it is not required for this Link Button ) .
Enter the directory path C:\DReferrals
Then click

"copy to all computers", click "ok"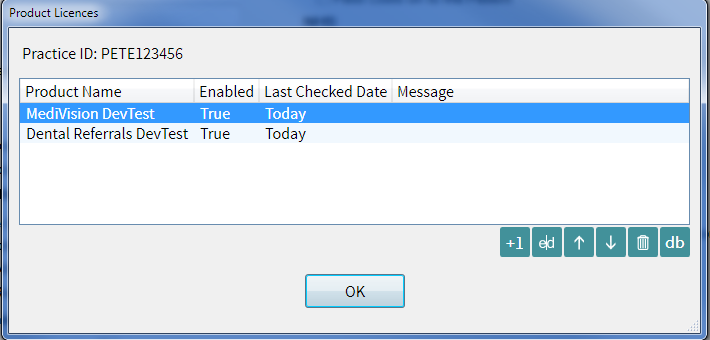 Please note this screen does not auto-update so please log out of EXACT while performing step 2 (or wait a few mins for it to register the new licence) before logging back in to test.
Once the licence is enabled exit, relaunch and log into EXACT. Open up a patient file and you should see the Dental Referrals Icon. Please note the icon only appears if a patient is selected.

When you select this icon the Windows default web browser will be launched, pointed at the Dental Referrals web portal front screen which then prompts the user to select a type of referral form.
Once the referral form is selected, the form will be displayed with the supported patient fields prepopulated.
Please Note: Patients that have a space (double-barreled first or surname) in their name may not work and may require a hyphen "-" to join the names before clicking the Dental Referrals button.
This name can be corrected in EXACT & DR after the button has been clicked.
Installation PART 2: Install the Dental Referrals Link Button
Extract the ZIP file to desktop and run as windows admin.
Make sure you have the Dental Referrals Authorisation Token (API key included in your email from Dental Referrals) before continuing.
https://www.dental-referrals.org/dentists/scanners-and-software/
0113 493 1920 or 0845 8620841
Please note that this installation step will need to be repeated on every workstation where you want the link button to be used.
1. Run 32 bit installer
2. You will likely see the following UAC popup appear. If it does then please select yes then if happy with the Licence Agreement, click "I agree".



3. Leave the path as it is and Click "install"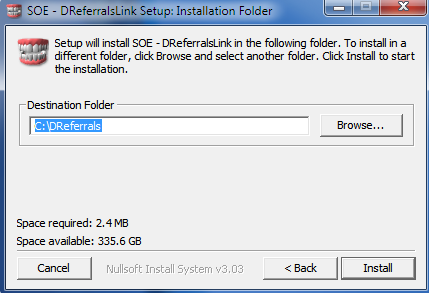 4. At the end of the install process a windows popup will be displayed prompting for your Dental Referrals Practice Authorisation token. This is the API key/authorisation token issued by Dental Referrals to the practice.
Enter your code (or copy and paste, use the right mouse click to paste) after the prompt and hit enter/return.
5. If the wrong code is entered or this code needs to be changed then repeat the Part 2 install and re-enter the key
6. Complete the installation by selecting close, log out and back into EXACT before the button will appear.