Clinipad - Terms and Conditions
As with the other forms, in the Arrivals screen EXACT indicates whether the terms and conditions need to be signed and whether this will be done via Clinipad.
EXACT makes this decision based on the arrivals configuration and shows this information as both icon at top right, and text on the Arrivals page: Setting Up Workflow Arrival Procedures for Terms and Conditions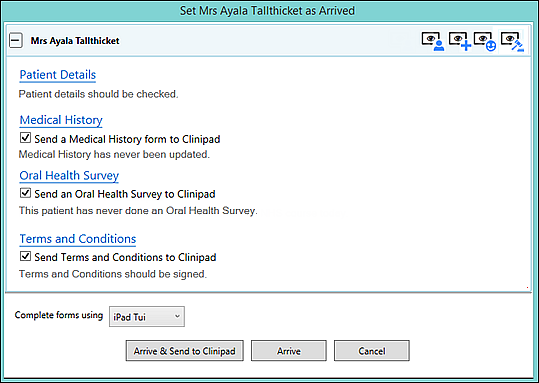 Optionally override the decision by means of the checkbox (either requesting or not requesting that the terms and conditions be signed).
Signing your Terms and Conditions (Patient)
Instructions to Patients
Please use the Clinipad device to digitally sign our Terms and Conditions statement.
To sign the Terms and Conditions on the Clinipad
A Receptionist or a Clinician will hand you the Clinipad.

If this is a Family Appointment, please select your name:

(note that each family member needs to sign separately)

Tap the Terms and Conditions button:

Read the Terms and Conditions on the screen (the signature area is not interactive in this screen):

Select the Sign button at top left:

Sign by means of a pen, stylus or finger in the Patient's Signature area:

(Select the Clear hyperlink at top right of the signature box if you need multiple attempts)

With your signature completed, select the Send button:

Do a final check with your signature displayed in context:

Select the Done button at top left:

On the main Clinipad screen you will see that the Terms and Conditions is now checked (ticked).

If you are part of a family appointment, select the Change Patient button to offer the device to another family member: