Clinipad - Patient Details
Similar to the other forms, in the Arrivals screen EXACT indicates whether the Patient Details need to be signed and whether this will be done via Clinipad.
EXACT makes this decision based on the arrivals configuration and shows this information as both icon at top right, and text on the Arrivals page: Setting Up Workflow Appointment Arrival Options
Patient Details has one difference to other forms in that this form will always be available to the Patient on Clinipad & Patient Portal to access & update as long as one other form is due to be completed. This form does not require a signature.
If a patient has
-Had their first visit to the practice recorded as being within the last year, and
-Their referral source on file is blank then Clinipad will now include a question to them on the Clinipad Patient Information screen: "How did you hear about the practice?".
Alongside this question is a dropdown list of configured active referral sources from which the patient can select: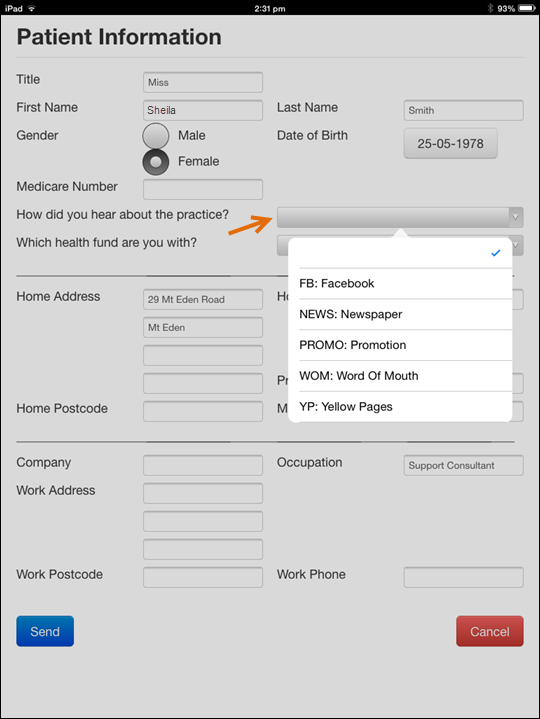 Note that stating referral sources is not mandatory for the patient, so it is not problematic that patients have blank selections. If the patient selects a referral source it will be written back to their patient file record and they won't be asked again.
Clinipad always displays the patient's existing data as the default answer so that if the patient skips the question, the data is not changed.
Clinipad always includes a blank option in the list so that the patient can deliberately not answer the question.
Clinipad Patient Data User Disclaimer
Patient details include a disclaimer on the use of patient data which can be disabled from Configure, Appointment Book, Arrival Options.