Online Booking Web Setup - Practice Logo, Information & Colour Scheme
From Configure, Online Appointments you will see the "Web Setup" button.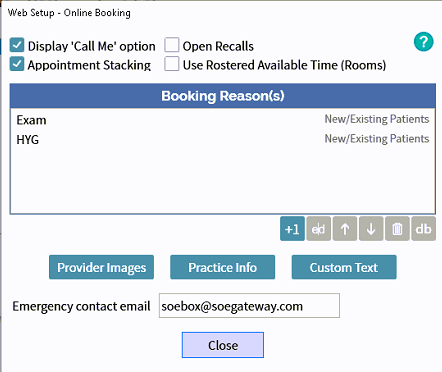 This will give you access to change the majority of the online booking settings and information.
Display "Call Me" option
If you leave this checkbox un-checked

the booking patient will see no Call Me Back option

Appointment Stacking


If you leave this checkbox un-checked (default), the software shows only those appointment gaps at the top of a series of gaps. In this way you constrain bookings to fill up in an orderly manner, without leaving large blank gaps, and the practice appears to be professionally busy.

For example, booking gaps exist tomorrow from 8.00am through to 3.00pm, but with Appointment Stacking disabled, a patient will only see the 08.00am slot.

Open Recalls
If you leave this checkbox un-checked, then when Recall patients go to book their recall appointments they will see only the available appointment slots after their recall due date (it is not open to any dates).

Use Rostered Available Time (Rooms Required)


When this checkbox is checked, EXACT only uploads the Rostered free time to the online booking site (no free time is uploaded if there is no rostered free time).

When this checkbox is un-checked, EXACT uploads all Provider free time as slots (including both rostered and un-rostered) to the online booking site.

When the Appointment Book is set for Schedule to rooms but no room is added in any appointment book, this checkbox does not appear and there will be no free time uploaded to the online booking site.

Practices with Locations enabled will see an "Enable Locations" option too so that multiple locations within the database can use Online Booking
For Online Booking Reasons: Configuring Online Booking Appointment Reasons, Services & Providers
Practice Info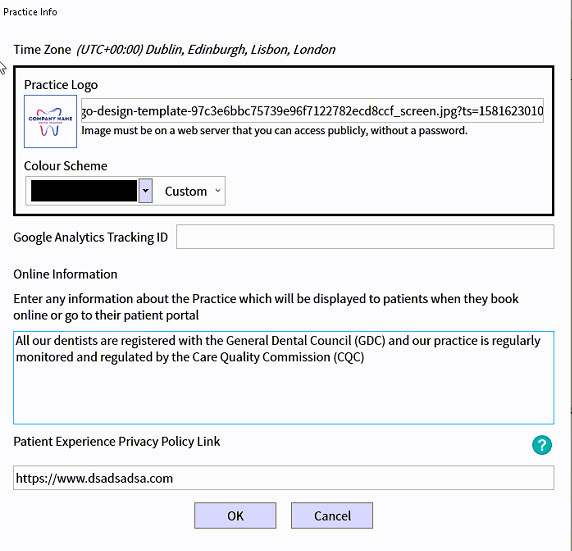 Practice logo (must be an image hosted online)
Colour scheme (Black in our example)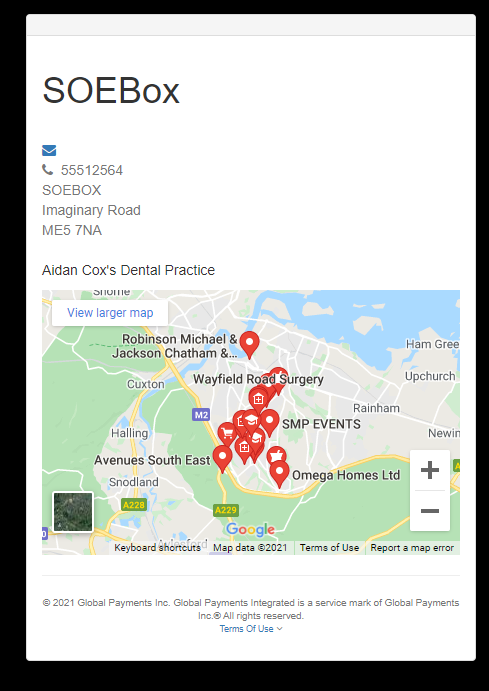 Google Analytics: Online Booking - Adding Google Analytics
Online Booking is showing the wrong Google Maps location for my practice

Online Information: This text is shown on the main booking page between the practice address & map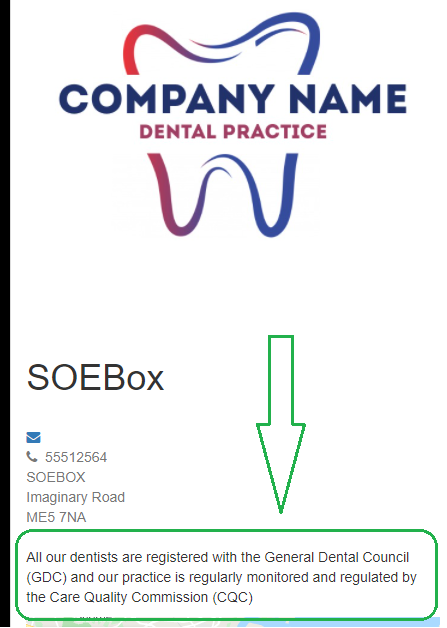 Patient Experience Privacy Policy Link: For those customers using Patient Portal, the link is displayed when a patient clicks the "info" button on Patient Portal

Custom Text
From here you can change the cancellations and Complaints text that is displayed online to your patients before they book their appointments.