@soegateway Email Account - End Of Life Update
Soegateway email accounts were used to help customers send/receive emails short term through EXACT up until they created their own email account. As, In more modern times, our customers prefer to use their own email accounts (preferring their own professional looking email domains) and because soegateway email accounts no longer reaching BTInternet email accounts our customers using an @soegateway.com email address within EXACT will now be asked to change to an alternative email account as @soegateway.com accounts will soon reach their expiration.
Within EXACT, go to Configure, Email Parameters, Click Next to see your current email setup.
If the "User Name" field includes an @soegateway.com email (like below dental@soegateway.com) then you'll need to change this email account soon for emails to continue sending from EXACT.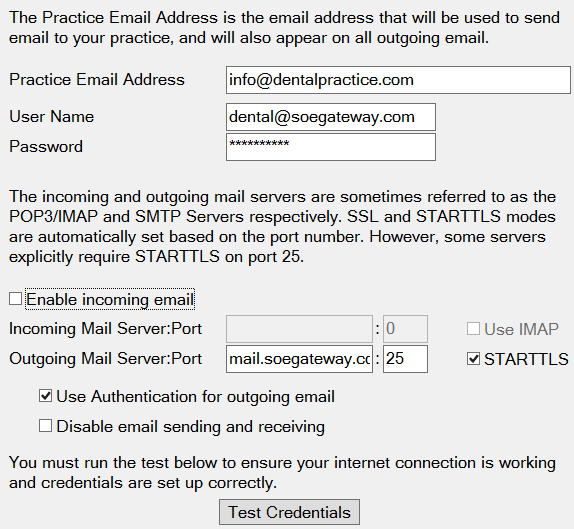 Ensuring your emails continue to work within
EXACT
Your IT can help to provide guidance/recommendations
If you receive emails into EXACT (Check File, Email, Inbox for any recently dated emails) then you will need to note down, for later, your current @soegateway.com email address (from the identical screen above) and password.
To find the password; log into EXACT as an Admin user, go to Configure, then Settings, Search "incoming.password" and note down the password shown in the Value column.

You may already have an existing email account you wish to use, If so go to step 3.
(i.e like info@dentalpractice.com in the example above)
If you do not have an alternative you will need to create one (i.e Gmail, Gsuite, Office365).
Below uses Gmail as an example but more providers instructions can be found here: Configuring an Email account in EXACT
You will need to enter the following:
(Click Here
for a list of the most common email providers Mailservers/Ports)
User Name & Password - The User Name needs to be the new email address for sending emails, If the first field "Practice Email Address" is also @soegateway.com change this so that they match, followed by the password. (see "Please Note" section for masking email addresses)

Incoming Mail Server & Port (i.e imap.gmail.com & Port 993) Tick "Use IMAP" if using IMAP settings
(untick "Enable incoming email" if you do not wish to receive emails into EXact and just send emails out)
Choosing between POP3 & IMAP for incoming mail
POP3 - (ports 995 or 110) Using POP3 is likely to pull every existing email into EXACT and will remove them from everywhere else you'd usually see them, these can not be retrieved!
IMAP - (Ports 993 or 143) This option will retain a copy of the emails on the mail server so you can continue viewing existing and new emails external to EXACT (i.e Outlook, online).
Please Note: EXact after receiving emails via IMAP may mark the emails as "read" on the mail server.
Outgoing Mail Server & Port (i.e smtp.gmail.com & Port 587)

Tick "Use Authentication for outgoing mail"

Tick STARTTLS if required (usually only when using port 25)

Now click "Test Credentials". Once you see "Test Successful", click "next" until you click "finish", this will save your new Email account setup. If prompted to update the Practice email address click "yes".
If you use Campaign/Marketing Manager and clicked "Yes" to the prompt mentioned above please email us at emailhelp@soeuk.com so we can register your new email for sending Campaign communications (you will receive a link via email to confirm your new email account)
The user interface and steps may have changed slightly since this videos creation*
Forwarding Emails from your SOEGateway account onto your new Email account.
You only need to follow this step if you had "Enable incoming mail ticked" previously and soegateway emails coming into
EX
ACT in
File, Email, Inbox.
1. Using the email address and password collected in step 1:
Go to https://webmail.soegateway.com and log in using the email address and password
2. Click settings in the "Webmail home" in the top right
3. Click on "forwarders", then "add forwarder" and add the new email address to receive all future emails that may be sent to the @soegateway.com address.

PLEASE NOTE:
SOE will not currently cease any functionality of your SOE gateway email account until we can see it has been changed although the expiration of the accounts may go beyond our control if not changed soon.

If you wish to mask the sending email address with an alternative email address make sure the "Practice email Address" (the first field) is the one you enter this into.
Beware - mismatching/masking emails may cause SPF record issues / undelivered mail.