Email Configuration - BTConnect
Not to be confused with @BTInternet.com accounts
BTConnect does not support IMAP (including accounts using modern authentication but does support POP.
With your Email address, Email provider and email password ready.

Log into EXACT (as a high enough user), then go to Configure > Email Parameters


Enter the Email Address into the "Practice email Address field"

Enter the same into the User Name field and the password in the Password field.

Enter the Incoming Mail Server outlook.office365.com (port 995) or leave blank and untick "Enable incoming mail" if you'd prefer to read your emails outside of EXACT.
Beware! using the POP/POP3 option will move all of the existing and future emails from the mailserver down into EXACT and you will not be able to get them back out. Only use POP settings if you're sure you want your emails to remain in EXACT and not be visible elsewhere.
6. Enter the Outgoing Mail Server smtp.office365.com (port 587) then Tick the Use Authentication checkbox. You should have a screen that looks like this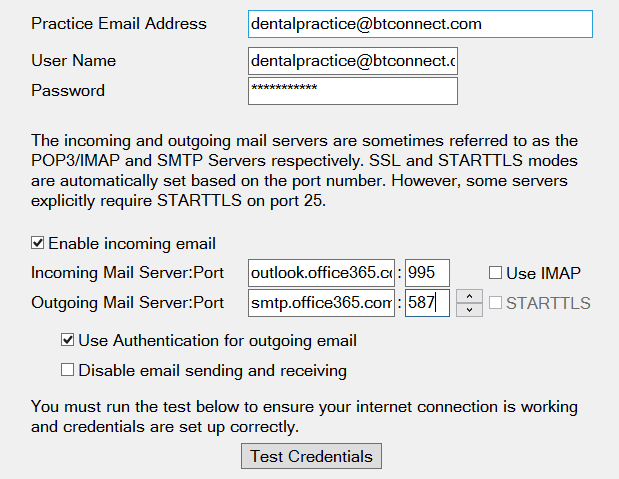 7. Click Test Credentials, see "Test Successful", click Next until you get to "finish" to save the new email details.
If this test fails it could be that the password, a mailserver/port is wrong or the account requires additional settings to be enabled. Please speak to your IT for further advice.
8. A prompt may appear to change the email in practice information too, click yes (this means all future communications to patients has the updated email address included).
If you use Campaign/Marketing Manager and clicked "Yes" to the prompt mentioned above please email us at emailhelp@soeuk.com so we can register your new email for sending Campaign communications (you will receive an email link from Amazon Web Services to confirm your new email account address)