Email Configuration - Go Daddy
Since Oct 1st 2022 Office 365 accounts (including GoDaddy) are required to use Office 365 mail server settings to continue sending/receiving emails.
Email security and encryption
Outgoing emails are transmitted using your mail servers encryption settings.
Please check with your email provider as to the level of security they offer.

Please note: This is entirely dependant on the level of encryption offered by the recipients email server. For example, regardless of the level of security of your email account, if you are sending an email to a non-secure email account the level of security will be minimal.
OAuth2/Modern Authentication enforcements from Microsoft also mean that you will be required to
start using the new authentication option within EXACT to log in to your email account to continue sending/receiving mail.
For GoDaddy accounts this will be required at some point soon, Microsoft has said they will give a warning with a deadline date before cutting off any email functionality. We expect this to be before April 1st 2023.
If using either the OAuth setup configuration or the older method below you are likely to need to enable SMTP authentication in the backend of your GoDaddy account.
See: https://uk.godaddy.com/help/enable-smtp-authentication-40981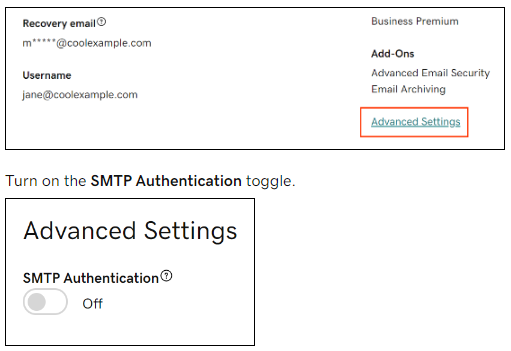 Beware! using the POP/POP3 option will move all of the existing and future emails from the mailserver down into EXACT and you will not be able to get them back out. Only use POP settings if you're sure you want your emails to remain in EXACT and not be visible elsewhere.
Log into EXACT (as a high enough user), then go to Configure > Email Parameters

Enter the Email Address into the "Practice Email Address" field

Enter the same into the User Name field and the password in the Password field.

Enter the Incoming Mail Server outlook.office365.com (port 993 for IMAP, recommended) (Port 995 for POP, Not Recommended) or leave blank and untick "Enable incoming mail" if you'd prefer to read your emails outside of EXACT. Tick the IMAP box if port 993 is being used.

Enter the Outgoing Mail Server smtp.office365.com (port 587) then Tick the Use Authentication for outgoing mail checkbox. You should have a screen that looks like this (mail server addresses may differ)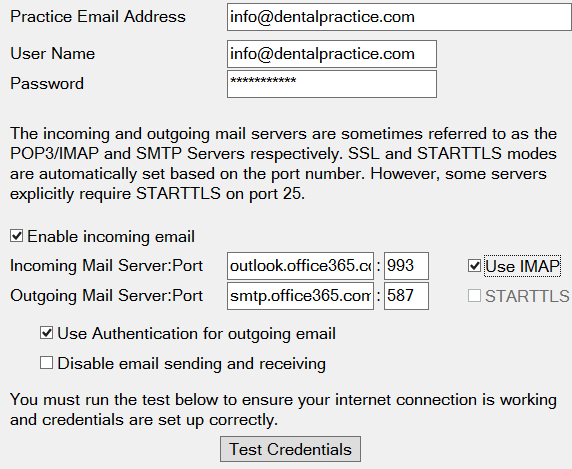 6. Note, whether you used IMAP or POP settings, if the account you've just entered into EXACT has a lot of existing emails, EXACT will pull all of these in which can take a while depending on how many emails it needs to sync. These emails can be removed once it's finished syncing but there's no way to stop this process unfortunately.

Click Test Credentials, see "Test Successful", click Next until you get to "finish" to save the new email details.
If this test fails it could be that the password, a mailserver/port is wrong or the account requires additional settings to be enabled. Please see https://uk.godaddy.com/help/enable-smtp-authentication-40981
7. A prompt may appear to change the email in practice information too, click yes (this means all future communications to patients has the updated email address included).
If you have just set up a new email account within EXACT and use Campaign/Marketing Manager and clicked "Yes" to the prompt mentioned above please email us at emailhelp@soeuk.com so we can register your new email for sending Campaign communications (you will receive an email link from Amazon Web Services to confirm your new email account address)