See Appointment Arrival Options for Patient Portal and Clinipad & Appointment Arrival Options - Medical History for how to prompt patients to fill in their medical history either before or upon arrival via Patient Portal or Clinipad.
Manually Sending Medical History to Clinipad
In the Patient File Medical Tab, select the Update Medical History using Clinipad button for update on the Clinipad:

Use the drop-down to select the tablet you want to use and click OK.
To return Clinipad sessions simply click the down arrow beside the Clinipad icon in the workspace bar, and select the Clinipad to return for your area: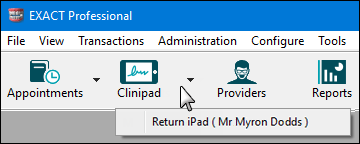 The updated Medical History record, including the signed form, can now be found in the patients Medical Tab.
We recommend a Clinician views the Medical Information and marks it as reviewed.