EXACT backup troubleshooting
Please Note: This article refers solely to troubleshooting EXACT network backups.
EXACT Network Backup crashes instantly (both via EXACT & backup.exe)
Check for any uncommon anti virus software like "Sentinel One" and make sure they have the exceptions for the backup.exe usually located here:
C:\Program Files (x86)\Software of Excellence\EXACT\backup.exe
Also make sure the destination folder has read/write access in windows for Users or "everyone".
Sentinel One Anti virus

Backup error's with server "null" and database "null" error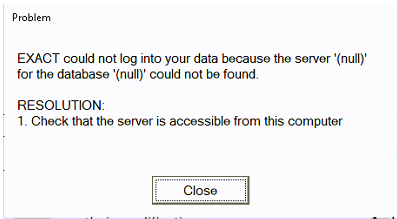 This is usually caused by windows permissions. Running EXACT as administrator usually get's this working but reducing UAC User Account Control restrictions from the windows user/s may also help, see your IT for help with this.
Unable to write backup file, please check disk space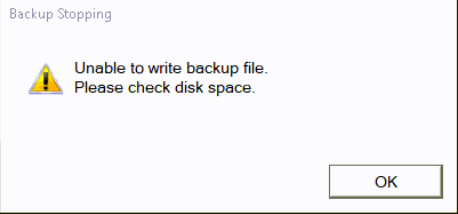 Re-Configure EXACT to backup to a location that it has access too. It can often be a case that EXACT is unable to backup to a network drive. If the relevant folder permissions cannot resolve this then choose a different drive to store the backup. See: How to Setup a Network Backup.
Disk is full during a backup
When taking a network backup on a workstation, there is a chance the disk drive will become full of data.
Q: Is it OK to delete the network backup to free up space?
A: It is safe to delete the backup if the practice are OK with this. It is worth checking if the practice has access to another backup elsewhere before deleting in case this is the only backup.
It is recommended to have a full network backup taken on one workstation however it is possible to not backup the sub-directories of the data folder to enable smaller backups.
In order to do this please use the following instructions:
Log into EXACT as a SUPER/Admin user
Select Configure - Computer Settings.
Untick the option for Backup sub-directories.
Save the changes.
The next time you run a network backup EXACT will only backup the data files, it will not backup the sub-directories, for example the log files, photos, XMIT etc.
If possible however, please contact your IT support and see whether they are either able to install a larger hard drive or delete some files to create some free space.