When providing a patient a replacement appliance, it is necessary to chart a Regulation 11.
Charting a Regulation 11
Open the chart tab on the patient file
Create an NHS course of treatment (COT)
Click on the Exemptions button at the bottom of the COT
Select Regulation 11 Replacement Appliance (EXACT will automatically put the patient charge in)
Select OK
Add a Replacement Appliance service for example, 3281, 3282, 3283, 3284 or 3285.


Please Note: The NHS no longer accept the Clinical Dataset 'Other', if this is assigned to any one of these services, you will need to change this before charting the service.


See NHS Datasets, Service Codes & Categories for help checking and setting clinical datasets. If you are unsure which dataset to use, please contact your NHS team for guidance NHS Contact Details.

Complete the treatment and TC
Note: No other NHS treatment can be added to a Regulation 11 treatment plan.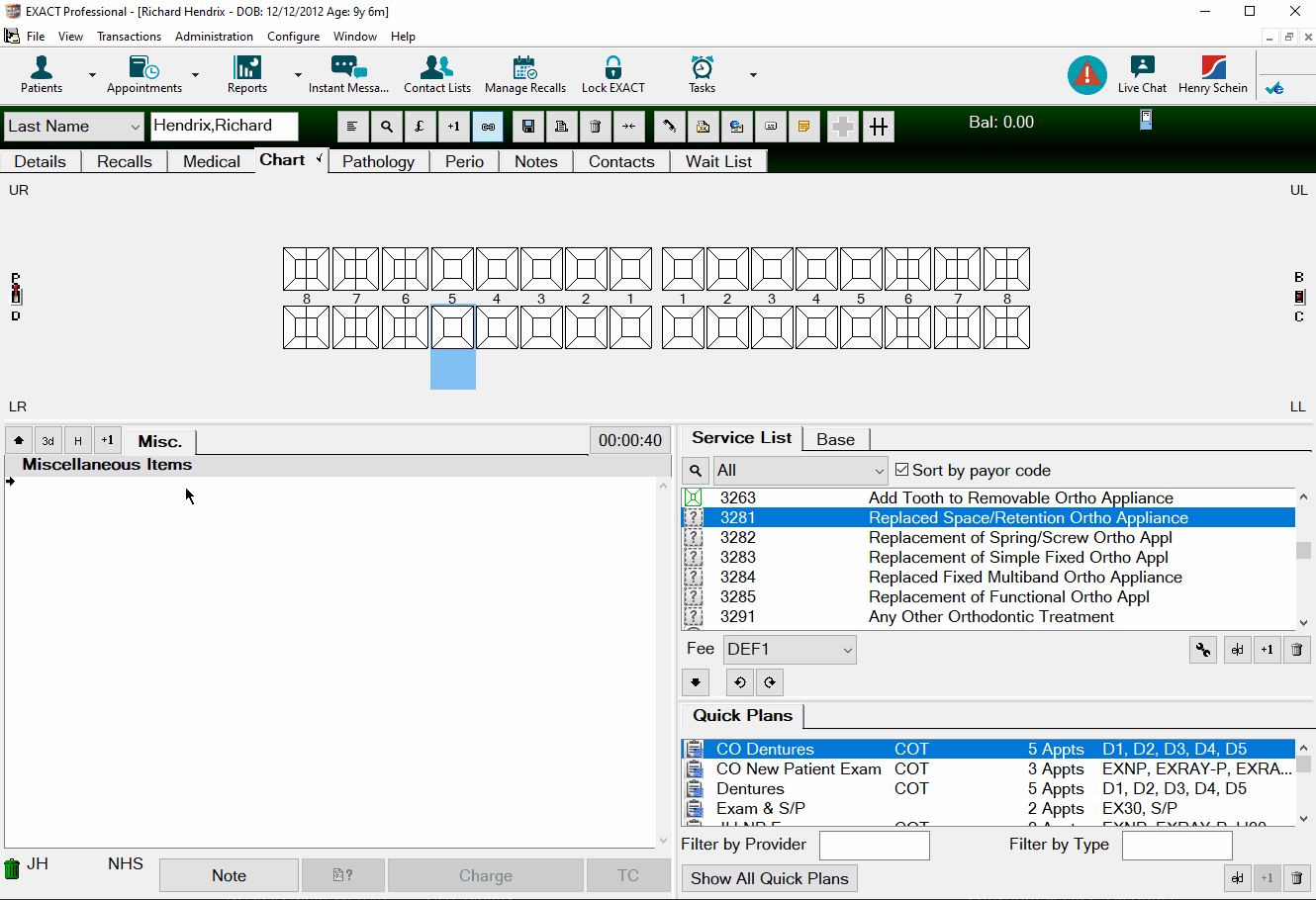 Incorrect Regulation 11 Fees
Note: A Regulation 11 fee is 30% less than a Band 3 fee.
If the fees displayed on a regulation 11 COT is incorrect, it is possible the NHS Band 3 fee is incorrect in EXACT.
To check the fe allocated to your Band 3, navigate to
File - Payor - NHS - Band Setup

Regulation 11 patient charges and activity
The patient will pay 30% of the Band 3 charge per appliance even if they do not normally pay. Please note that upper and lower dentures are considered two appliances. In cases of undue hardship patients may apply for a refund of charges by completing a Form FP17R11.
12 UDAs are awarded for general appliances
UOAs are not awarded for replacement orthodontic appliances. The orthodontist retains the patient charge and Form FP17O is submitted.
View the NHS website for the most up to date Regulation 11 information.