NHS England - Re-sending claims with a Schedule Query SQ Indicator or sending a claim as a deletion
Re-sending claims with a Schedule Query Indicator (SQ Indicator)
The Schedule Query Indicator (SQ indicator) is a field included in the date transmitted to the NHS and is not displayed in EXACT.
If a claim is resubmitted and TC'd again the SQ indicator changes to a '1'.
Adding this '1' value to the SQ indicator can help claims be re-sent if they are out of date/already recevied a response and the NHS have advised they will now accept the claim/s (this usually means the NHS have put in place an Override for practices to re-send claims with a response before a certain date, when the Override expires). These claims can only be sent with the SQ Indicator as '1' if they are all resubmitted and TC'd individually.
Note: Resending a claim bundle will not do anything and only return the same responses.
Sending a claim to the NHS as a deletion
In England, NHS Claims transmitted to the NHS can be deleted.
The Course of Treatment (COT) will need to resubmitted first - Resubmitting Treatment
TC the Course of Treatment (COT) and tick the Delete Claim Box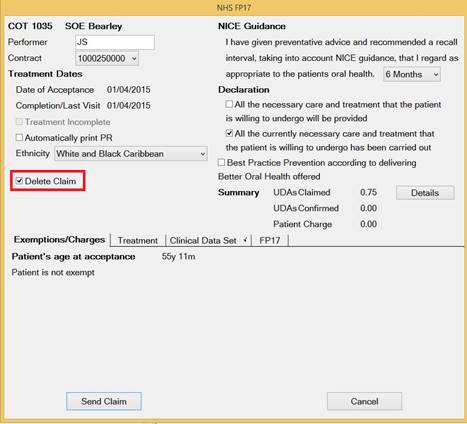 Once ticked, clicking Send Claim will send to the NHS as a deletion.
Delete Claim box is missing when TC'ing an NHS COT claim
From 1st April 2014, the observations tab was removed from the FP17 form and replaced with a delete claim button.
To send a claim as a deletion it needs to have been previously transmitted.
If it has already been sent twice the Delete claim box may not appear, if this is the case, follow the instructions below.
Click TC, the FP17/FP17W will show a Delete Claim tick box.

Tick this and click Send claim.

Any patient charges linked to the COT will be ignored as the claim has been deleted.