NHS Transmission Troubleshooting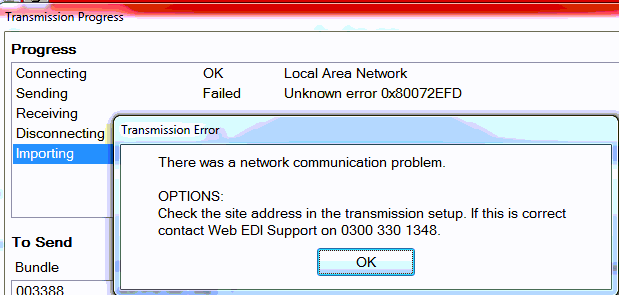 If you are getting a network communication error when transmitting claims, follow the below steps
1. Go to File > Payors, Select NHS Payor and click on Transmit Setup, check all details are correct
2. Open an internet page and enter the following web address https://ebusiness.dpb.nhs.uk/claims.asp (Northern Ireland Customers, go to https://www.ebusiness.csa.n-i.nhs.uk ).
Make sure it is HTTPS (not HTTP) at the start of the address when testing.

If it connect successfully this should then ask you for a username and password (you don't need to enter these)
If cannot display web page it may be that either the NHS' system is having issues or the computer or your network cannot connect to the NHS.
If cannot display web page as says it is forbidden speak with your IT provider to allow access to the web page.

3. On the server go to the location of the EXACT data. On the data folder right click this and select security. Ensure the windows "users" group has full control (read/write permissions).

4. Ensure the firewall is not blocking the transmissions. Turn the firewall of and test, if this works try adding dental.exe to the exceptions. Check whether you can ping ebusiness.dpb.nhs.uk from a Command Prompt