eDental NHS Scotland SDR, Common Responses and Discretionary Fees
NHS Scotland Discretionary Fees
https://www.nss.nhs.scot/media/2347/2022-01-13-discretionary-fee-guide-final.pdf (Feb 2022)
NHS Official Guidance: https://www.nss.nhs.scot/dental-services/edental/guidance-for-edental-and-eortho/
eDental Responses
A list of all eDental response codes can be viewed as a PDF here
A list of common responses and their meanings can be viewed as a PDF here
Other response codes:
Activate returned Error Code 50035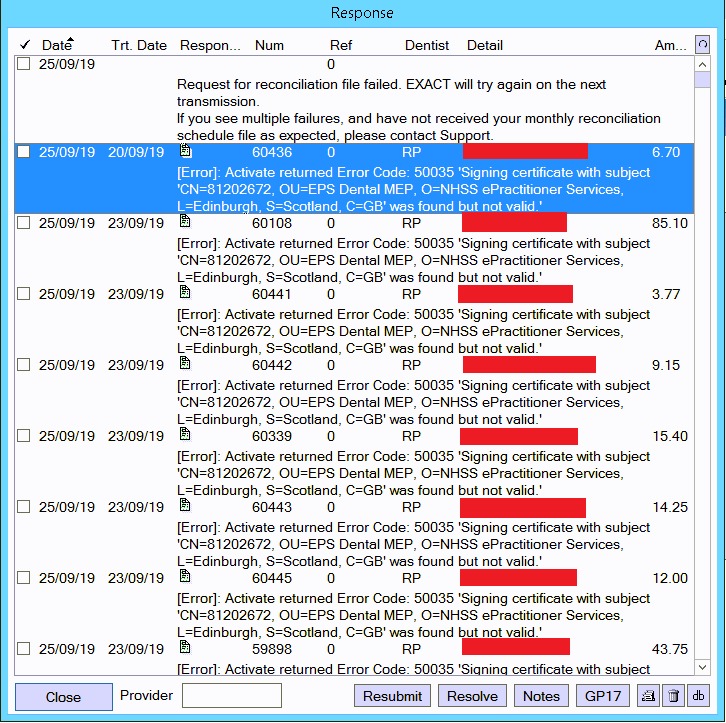 If you see this, contact the support team so they can check the EPOC & PIN code for your practice with ATOS
Failed to retrieve private key of certificate - Error Code 50070

Open MMC (Microsoft Management Console) by searching for "MMC" in windows or opening the Run window and typing "MMC"

Go to File, Add Remove Snap-in, highlight Certificates and click "Add"

Add to Computer Account, Click Next, then Finish, then press OK*

Expand the "Personal" Folder then click "Certificates". Right click all Certificates that are yet to expire with 8 digits (usually starting "8120") then click "All Tasks", "Manage Private Keys"

Click "Add" then type "everyone" and click ok (for each certificate)

Now close the MMC window and click "no" to save console settings and test Transmitting, CHI or retransmit to clear the "private key" responses.


*There have been some instances where MMC will crash out and prevent you from proceeding. If this happens, try running certlm.msc to find the certificates on the local machine and this should then allow to carry on from Step 4 onwards.