Practice Plan / Discounted Payor Setup
Setting a Payor with a discount means using the existing/default fee schedule but it will apply the discount % off of ALL of these prices.
Note- There isn't currently a way to set a percentage discount against specific services in a Payor. If you wish to discount a few services you can instead go into the Payors 'Fee Schedule' and set the new discounted fee there. You can also create a new fee schedule where just some prices are cheaper than the usual prices.
1. To create a payor where it will discount all of the current prices, go to File, Payors then click the +1 button to create a new payor.
2. Add a unique payor code (i.e PRACTICE P, there is a character limit for these codes).
3. Then tick the discount button and add the discount %.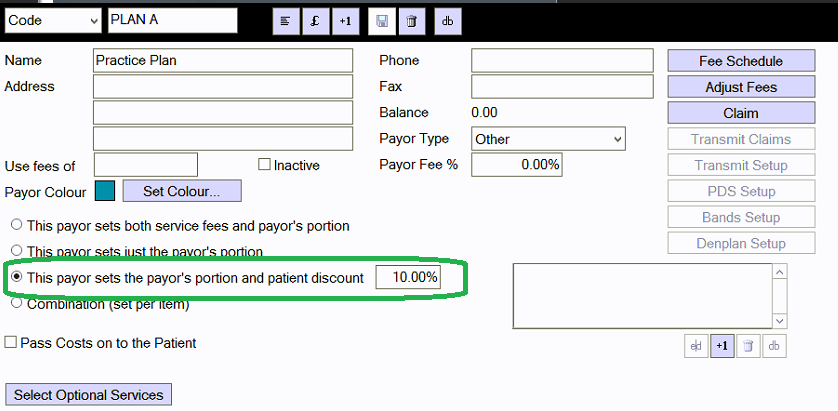 4. Set the payor type to "Other". If you are looking to add a payor where patients can fall into different banded groups with different prices, select "Capitation Plan". for denplan see: Denplan Care & Denplan Essentials Setup
5. If you do wish to set bands you can do so at this point by going to 'Bands Setup' and click +1 to add each band in.
6. Click on Save button.
If you need to bulk update specific patients that are moving from one payor to another see: Transfer Patients to a New Payor
If you need to only move a specific batch of patients over to a new payor please contact the support team so they can assist you.