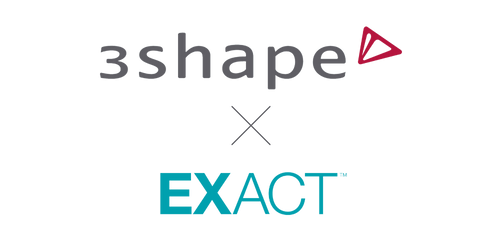 Trios from 3shape provides a platform, allowing the integration of scanners and other dental solutions into dental software. We are please to announce that 3shape Trios Unite can now be integrated into EXACT.
"We are thrilled about the integration with EXACT as it allows for time savings
and easier patient flow for dentists and their teams. It's one of many ways in which 3Shape,
along with its partners, strives to 'change dentistry together"
- 3shape Australia's Regional Leader, Sara Lowy.
Once 3shape Trios Unite has been connected to EXACT you can access any of your 3shape Trios connected software, providing simplified digital access to your patients important dental information. This is accessible through the 3shape button located at the top of your patients files.

Find out more about 3shape, Trios and their software on their website.
Integrating 3shape and EXACT
Our EXACT support team will need to configure 3shape in EXACT for integration, contact us when you would like us to add the 3shape button to your patient files.