Configuring User Workspace
The Workspace can be set up per user to give users quick access to the areas they visit the most. Some workspace icons also have shortcuts on them to do certain tasks quicker.
Configuring your workspace
To customise the workspace for the currently logged in user right-click anywhere on the workspace bar and select Customise (or configure, customise Workspace).
Tip: If you cannot see your workspace, follow these steps then tick Show Workspace in the workspace configuration window.
If you do not have this option please ask an EXACT administrator to do this for you, following the Configuring another EXACT users workspace section at the bottom of this guide.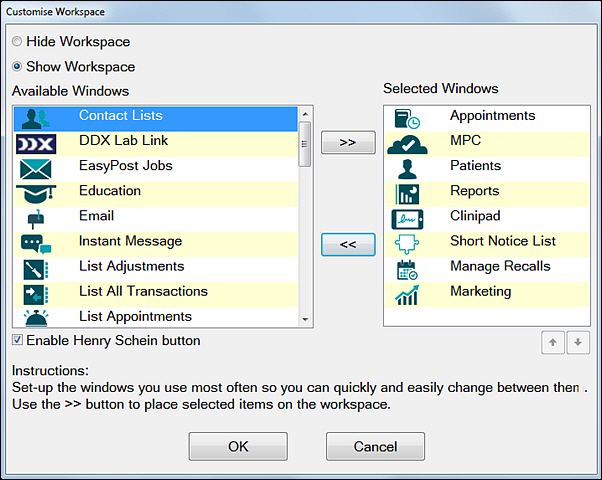 In the left pane, double-click an icon OR select an icon and click the [ >> ] button to add the icon to the right pane. Repeat for all icons as required.
The right pane shows the order that icons will appear in the workspace bar. Use the

arrow buttons to re-arrange the icons. Select OK.
Configuring another
EXACT users workpsace

Users with enough security can also edit other users workspace icons by going to Configure -> User settings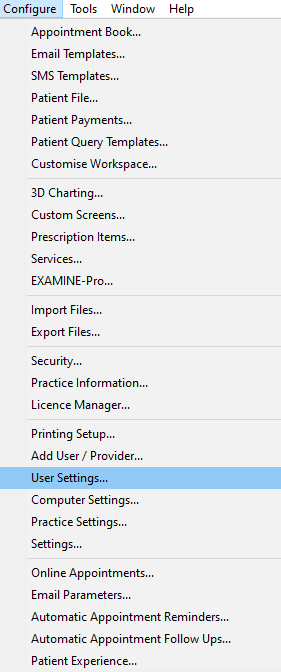 Select the user you want to update by clicking the

button, highlighting the user and clicking OK.
Select "Setup" next to the Workspace Items section.

You can also select "Copy Profile" from this screen to copy all of the user settings from one user onto another to mirror the look and feel of EXACT across multiple users quickly to save configuring this all manually.