Contacting a Specialist including Email and Printing
Communicating with an outside business or personnel can be done from within EXACT so a record can be kept of any communications, especially useful when that we need to message about a patient at the practice. We will also cover printing lists of specialists.
Contacting a Specialist
Specialists can be contacted by Email or Letter. To do this, a specialist must be added to EXACT, if you need to do this, follow the help article Adding/Updating Specialists and Referral Sources.
Emailing a Specialist
Navigate to File - Specialists.

Select the specialist using the selction button or entering their information in the search field.

Once selected, click the Email icon at the top of their profile.
Select the default option to email the chosen specialist only.
You will now be presented with several options. In this window you can select a patient if their details are required in the email, provider information and select an Email Template if one already exists.

Once you have chosen the desired options, the email creation window will open, ready for you to edit.
Click Send when you are ready to send the email.
Emailing Mutiple Specialists
Using the same method as above, however, replace step 4 by selecting Multiple specialists.
Once selected, tick the boxes for all the types of specialist you wish to email.
After selecting this, return to Step 5 above.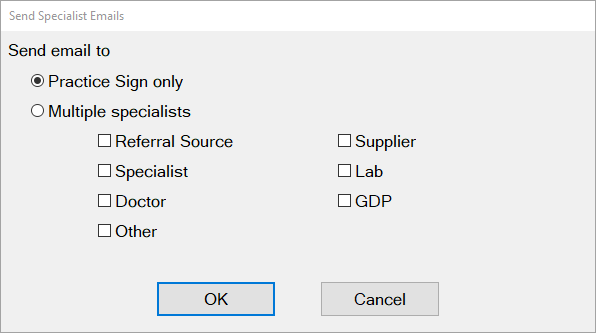 Emailing a Specialist from the Patient File
Specialists can be emailed directly from a patient file.
Load the requried patient file.
Select email from the top of the patient file.
Enter or select a Specialist using the Specialist option.
Once this has been entered, tick the box to Email the selected Specialist and an Email Template or OK to compose your email.

Sending a Letter to a Specialist
In much the same way as email works, select the letter icon. If navigating to this area from the Specialist window you can complete the Patient field for patient merge fields to be populated or if selecting from a Patient File you can complete the Specialist field to populate with a specialists information.
Printing and Exporting a List of Specialists
If you require a list of specialists in EXACT, this can be attained from the Specialists window.
Navigate to File - Specialists.
Select the print icon.

You can then select the types of specialist you wish to Print, Email or Export.

Print will create the list and send this to the printer as viewed in the Printer box.
Export will open File Explorer, providing you the option to select where you wish the export to be saved. The file format will be a .CSV which is easily opened using Microsoft Excel.