EXACT network requirements
For EXACT to operate efficiently and effectively within a Local Area Network (LAN) please review the following network requirements.
Network speed
A recommended network speed of 1 Gigabits per second
If any network component cannot handle 1 Gigabits per second throughput, it will reduce network speed for associated devices and may incur performance problems for users.
If your network is slower than 1Gb
On workstations where clients are doing less resource intensive tasks such as charting, slower network speeds should not see a performance hit.
However performance problems will be noticeable when attempting more intensive operations such as generating reports.
General guide for acceptable performance
Basic usage such as charting requires at least 100 Megabits per second network speeds
Viewing images/xrays requires at least 200 Megabits per second network speeds
Generating reports requires 1 Gigabits (1000 Megabits) per second network speeds
Network Configuration
This is the recommended network configuration, including internal IP ranges for devices.
The network should preferably use at least CAT5 cabling, which runs at up to 100Mbps.
We recommend the more recent CAT5e (enhanced), which can run at 1000Mbps.
Important: Wireless networks and Virtual Private Networks (VPNs) are not approved or supported.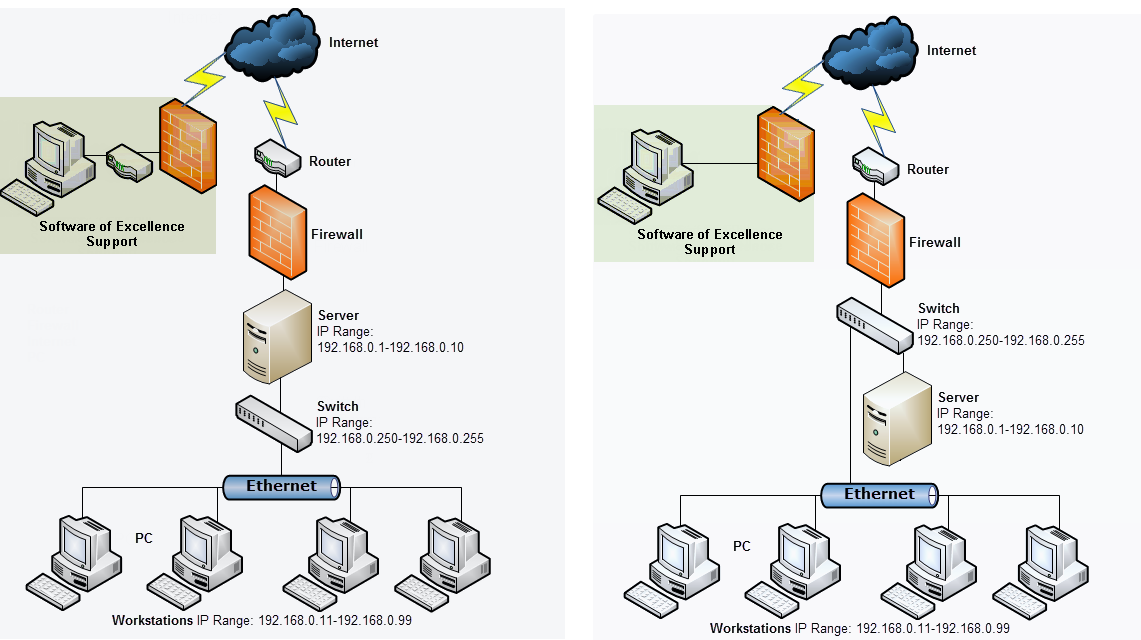 Wide Area Networks (WAN)
WAN configurations are only supported in the following environments,
Microsoft Terminal Services
Citrix Metaframe