Viewing Your Current Scheduled Events
The scheduler enables users to schedule a range of events, including reporting, exports, network backups, print jobs and batch invoice runs.
At any time you can see what scheduled events EXACT is due to run, currently running and have successfully completed. It's important to regularly check this area to make sure all the scheduled events are running as expected.
To check your schedule events go to File->Scheduler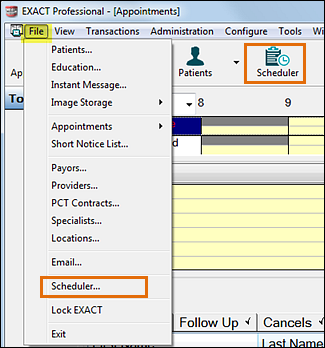 This will show you all current pending and incomplete events. It shows the date/time, who scheduled it, what was scheduled, its status and what PC it's set to run from.
If the computer name is empty it means it's due to run from any machine available machine.
If you wish to see a list of all scheduled events, you can untick the "Show only pending and incomplete events" tick box: