Invoicing Instalments and Reporting on Payment Plans
Existing payment plans can all be managed from within EXACT.
Navigate to Administration - Payment Plans - List Payment Plans.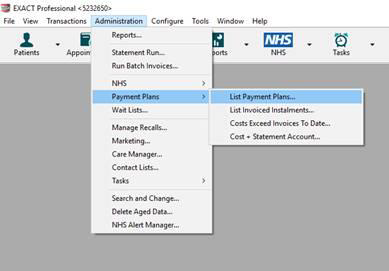 This screen will allow you to invoice all due instalments at once rather than going into each patient individually using the Invoice All Due Instalments button in the bottom right hand corner. It will show you all of the figures that you need to manage the payment plans.
Please Note: If you would like to invoice patient's instalments separately instead of in bulk for the dates chosen they can do this from the pay plans tab on each patient file using the 'Invoice Instalment' button under the instalments list.

If you use the print button in the bottom right hand corner it will allow you to print out a COT summary for each payment plan patient showing them all the instalments and advising them which have been invoiced so far (i.e. what they should have already paid for). This will not show any payments that have been made so far, this information will need to be printed from the transaction screen with a statement that will show the instalments that have been invoiced so far and what the patient has paid.
- This can also be printed from the patients payment plans tab by clicking on print summary above the list of instalments.
You can also view the patients file by clicking Edit Patient in the bottom right hand corner.
The COT Costs Exceed Invoices Report (Administration > payment plans > Costs Exceed Invoices to Date) can be used to manage accounts where the amount charged to the payment plan far exceeds the amount that has been invoiced. You can then check that instalments are being invoiced as necessary; it can also help you identify if extra treatment is being accidentally added to the payment plans. When you run this report you can set it per provider or leave the field blank to view the payment plans for everyone; if you tick 'Include full COT summary' it will also print out a COT summary for each patient.

I would advise not using the Cost + Statement account as this only works for practices who are purely payment plans and no pay as you go patients. This report includes all patients' payment plans or not so it can be confusing when trying to find purely payment plan patients. The information that this report shows can be seen more clearly on the List Payment Plans screen.