NHS Risk Assessment - ACORN
NHS Wales practices are required to complete an ACORN (Assessment of Clinical Oral Risk and Needs) form for all standard Courses of Treatment (COT).
Note: From 01/04/2022, urgent COTs no longer require an ACORN to be completed.
Due to this. the Urgent Care tickbox has ben removed from V13.561 of EXACT.
This guide is to support the detailed guidance issued by Welsh Government on the 22nd May 2020.
As of 1st April 2022
Urgent COTs no longer require an ACORN to be completed. Delete the Risk Assessment from the COT and chart as normal.

BPE data and Plaque scores are required to be sent along with every course of treatment, this will be automatically transmitted as per NHS regulations.
These changes were introduced in V13.561 of EXACT.
The NHS Wales Payor has a revised tick box on Payor File: "Auto chart NHS Risk Service on COT creation". It is on by default and will automatically add "NHS Risk Assessment" service to planned UDA COTs if a patient has not been assessed by the same provider in the previous 12 months.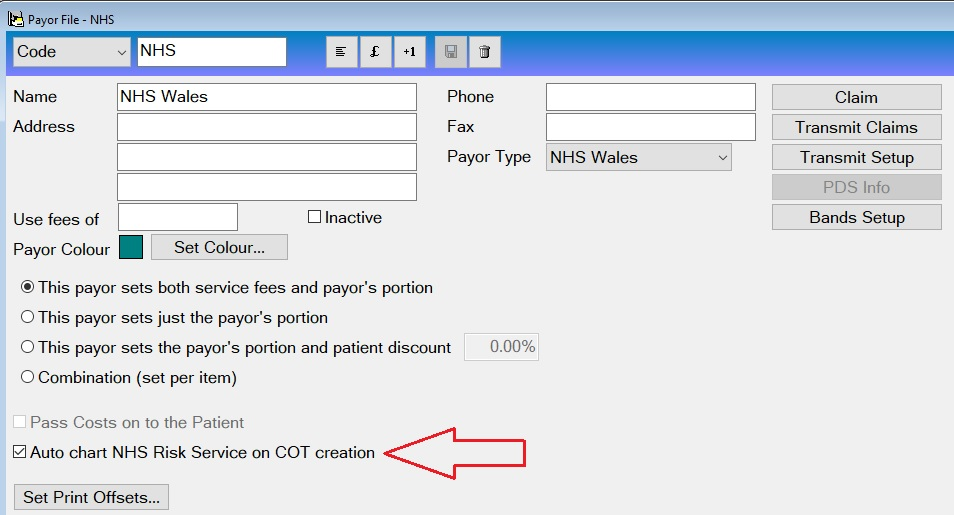 An NHS Risk Assessment will NOT be automatically added to a NHS UOA (orthodontic) COT:

In order to fill out the ACORN questionnaire you will need to double click the service icon or ticking the NHS Risk Assessment Service. There are four tabs as shown below: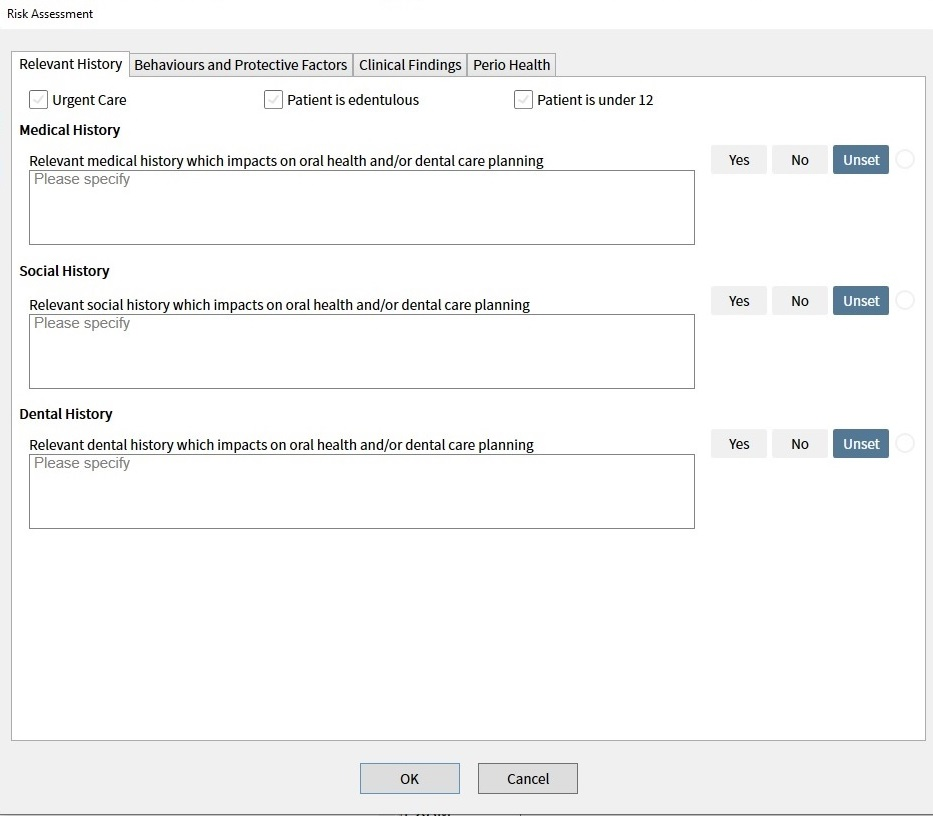 Ticking' Urgent Care' will alter the form questions to represent the urgent assessment as requested by the NHS. Equally, ticking 'Patient is endentulous' or 'Patient is under 12' will alter the questions that need to be answered on the form dynamically.
Relevant History
The three 'Yes, No or Unset' buttons will send 'Amber' or 'Green' status in the claim XML.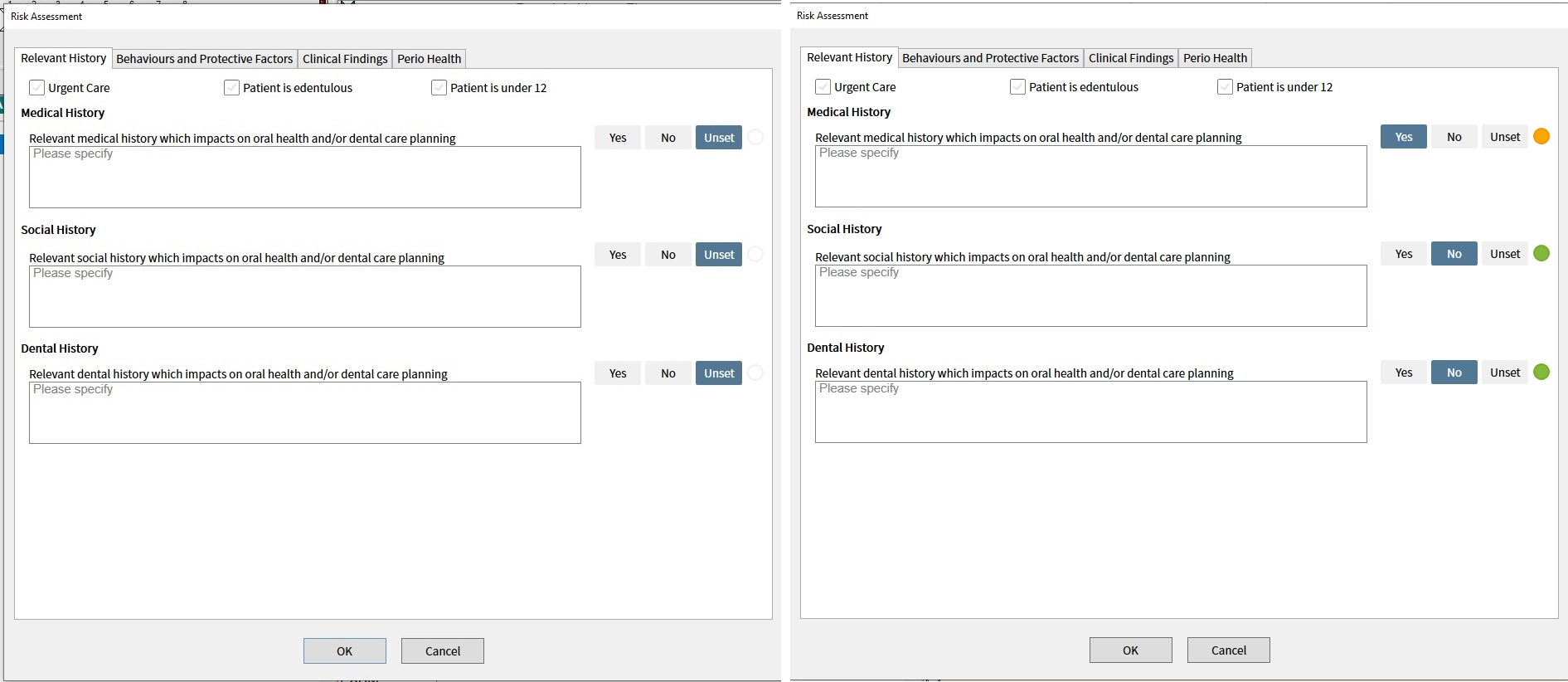 Behaviours and Protective Factors
EXACT will default the high sugar and tobacco questions if these have been previously answered by the patient in their medical history. See full details in the Medical History section of this document below.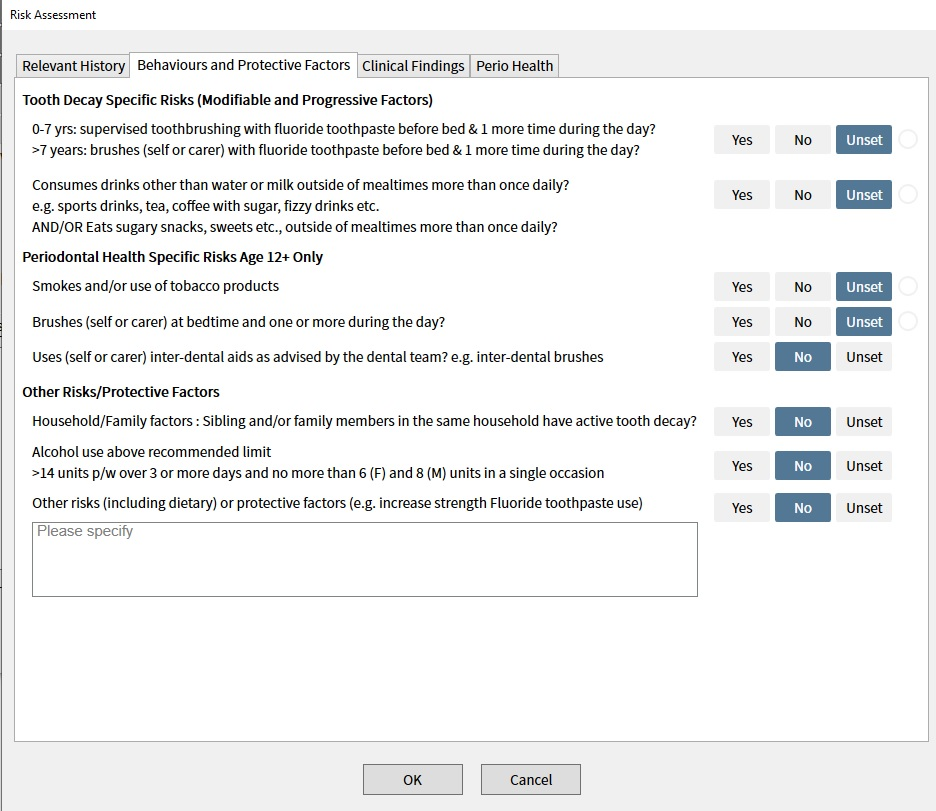 Clinical Findings
If all the questions leading up to an overall score have been answered, EXACT will attempt to default the overall score if it can. This will only happen the first time the form is filled in for the patient, and can be overridden at any stage.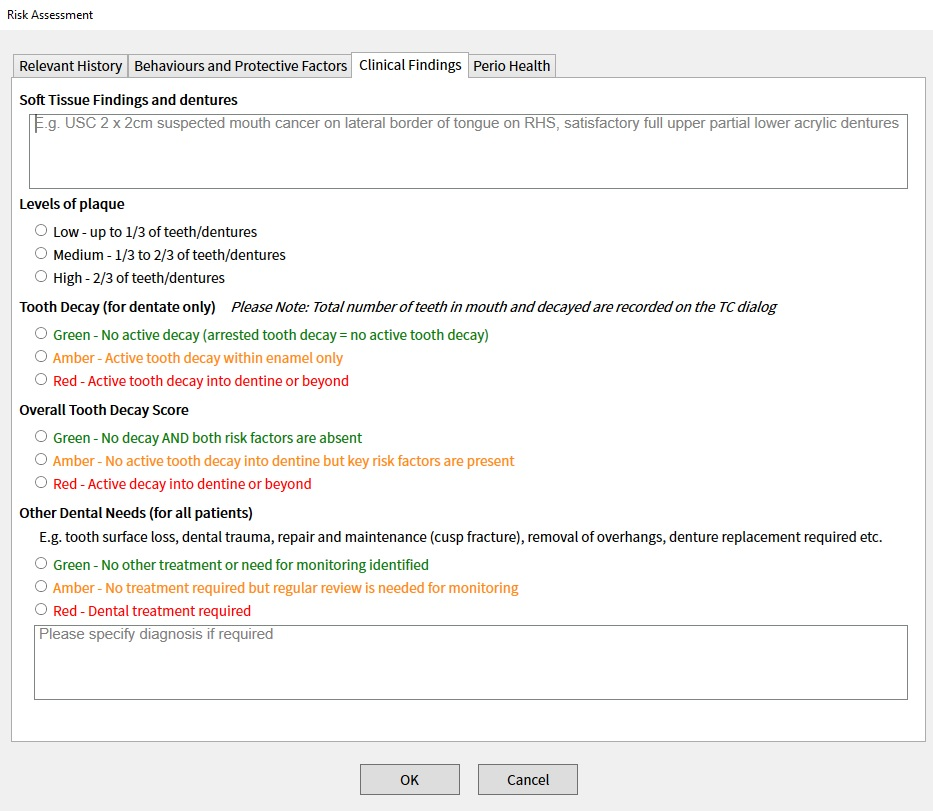 Perio Health
The patient's most recent BPE will be pre-populated on the form, so please ensure a BPE is completed before completing the assessment. These scores can be altered if necessary.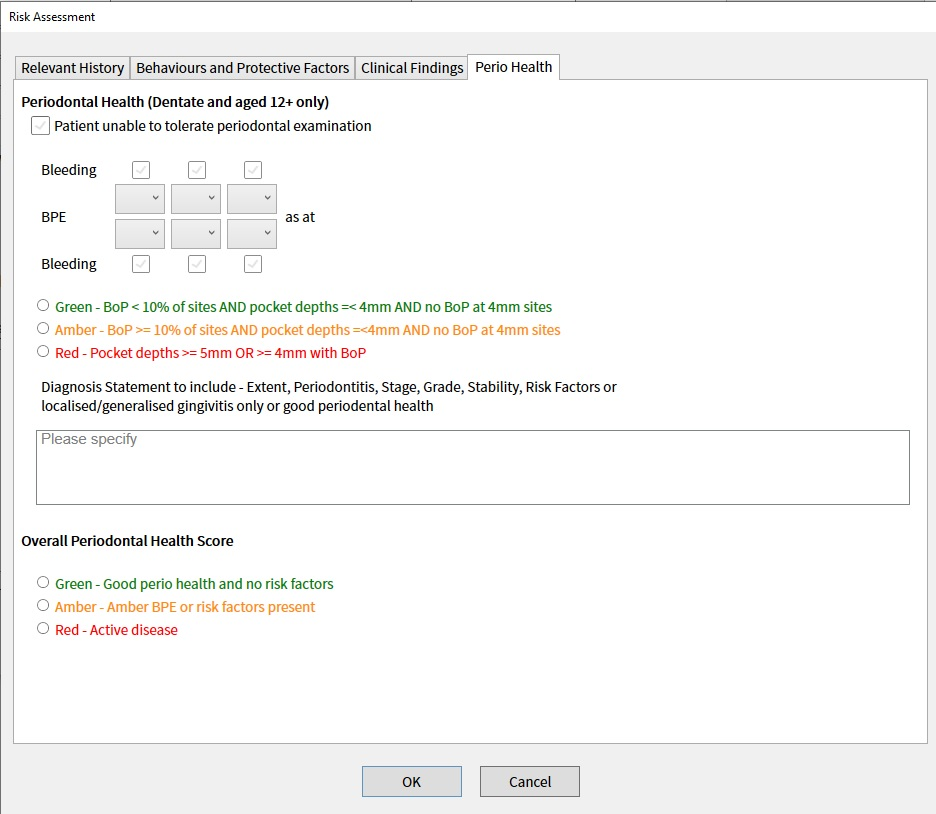 Ticking either the box for 'Patient is edentulous' or 'Patient unable to tolerate periodontal examiniation' will grey out the Perio Health tab as this data is not required. This was introduced in December 2021.

Edit Chart Service Item
If you need to access the edit screen again you can access 'Edit Risk Assessment' button from Edit Chart Item screen shown below: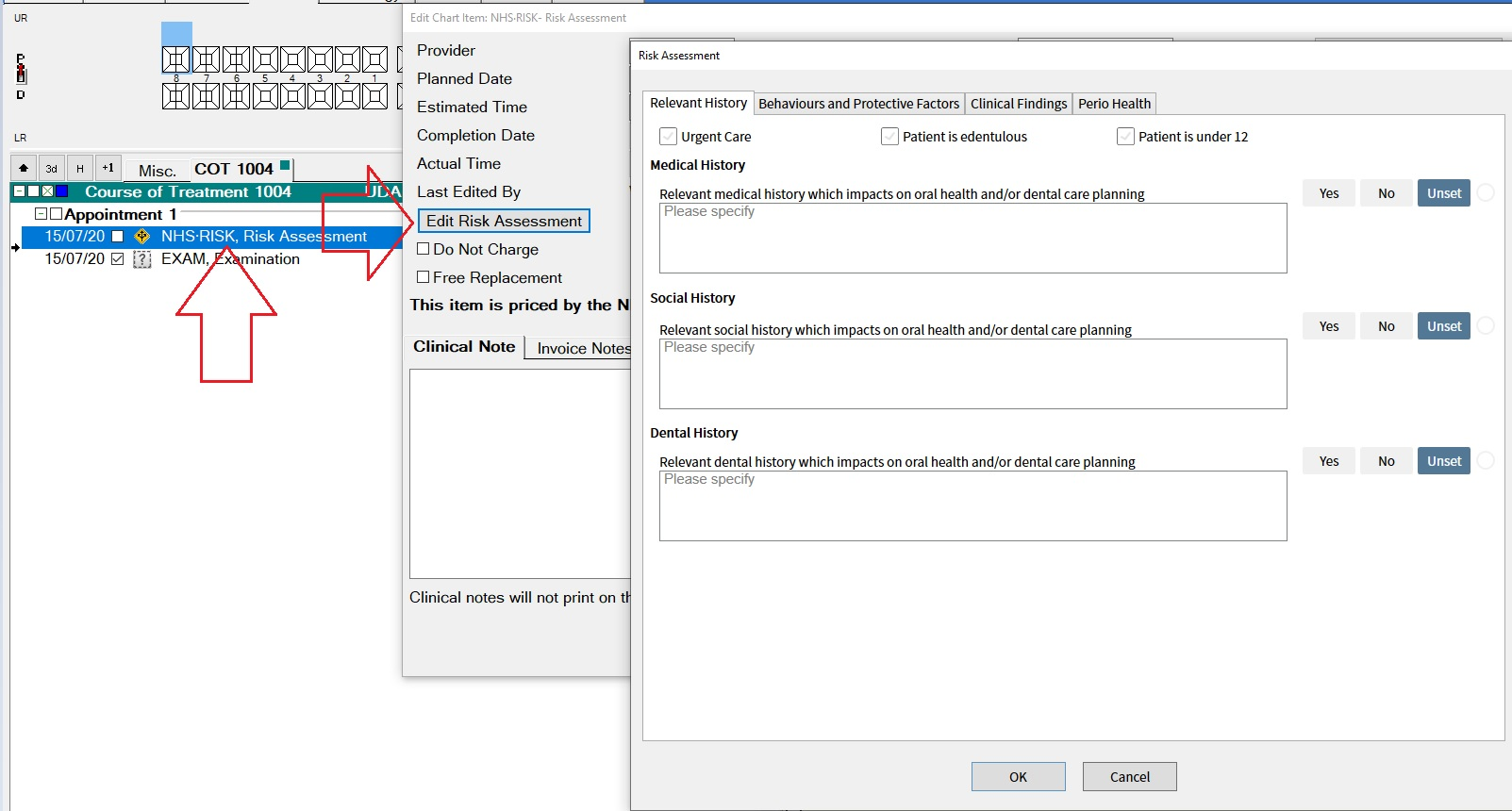 Or - from Tooth History on Uncharged Treatment EG: