SNOMED was scheduled to be implemented by 1 April 2020. However, the COVID-19 pandemic and the difficulties surrounding implementation meant that this was not possible. With practices in England now open for face to face treatments, attention is turning back to some of the issues facing the profession before lockdown and the NHS have advised to begin using SNOMED mapped service codes as of 01/09/2021.
NHS Guidance can be found here: https://www.england.nhs.uk/digitaltechnology/digital-primary-care/snomed-ct/
Secondary care, acute care, mental health, community systems, dentistry and other systems used in direct patient care must use SNOMED CT as the clinical terminology. EXACT supports this functionality, but it requires some configuration and understanding to use.
You should be able to continue charting your regular services as normal, but you will need to make sure that they have been mapped to SNOMED codes. In cases where more than one SNOMED code may apply and a default code has not been selected you will be prompted to choose from a list of available codes when you chart.
Configuration
This EXACT update has shipped with the reduced set of SNOMED codes that the NHS Business Services Authority indicated would be required as a minimum. The list been extended a little to cover other common dental services and observations. Where possible these codes have been mapped by the Software of Excellence team to the standard list of codes that are shipped with a new install of EXACT. It is up to each dental practice to satisfy themselves that this mapping is correct, and that they are happy with any SNOMED codes linked to a charted service by default. The practice must also go through any services that you regularly chart that are not in the standard list and add appropriate SNOMED codes.
Mapping
Start in the Services list (Configure Menu → Services…), and open the first service you want to inspect. You will see a new button labelled Configure SNOMED.

Clicking on this button opens a dialogue which shows you any SNOMED codes already linked to a service.
Example with no codes selected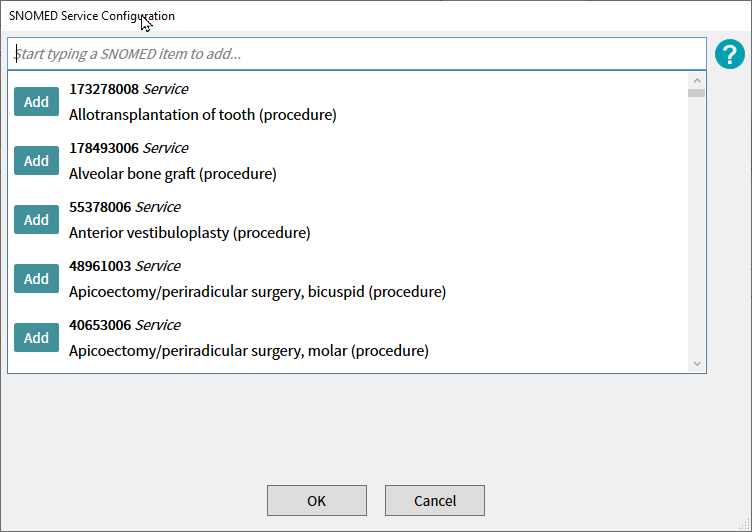 Example with codes already selected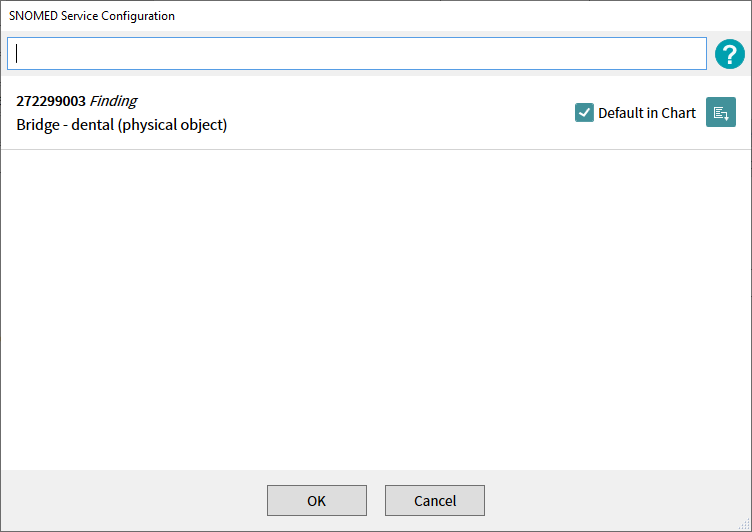 To add codes start typing some text for the type of SNOMED code you want to add, for example 'Exam'. A list will appear with SNOMED codes related to the word or words that you typed. Click on the Add button next to any of the codes that you want to add. You can add more than one.
Now that the service has one or more SNOMED codes assigned you can decide which if any of these codes should automatically be assigned to the service when it is charted. If you don't choose any of the services, then the dentist will be asked to select from the list at the point of charting. For any codes that you want to automatically be applied, tick the 'Default in chart' checkbox. You can select more than one default SNOMED code for a service. For example in our standard code list, the HEX (Hygiene and Exam) service has been mapped to both the Scale and the Exam codes.
234696006 Scale and polish teeth (procedure)
5880005 Physical examination procedure (procedure)
To remove a SNOMED code click on the remove button

at the end of the line.

If you decide not to assign any SNOMED codes to a service, and that service gets charted, then the dentist will be offered a free choice of codes to add to the service each time it is charted.
If would like to map a SNOMED code that is not in the list that we have included please let your support representative know, and we will be able to make it available in an update. See below for an easy way to stay up to date.