User Settings is the main location to edit the appearance of EXACT for an individual user. From here you can change your password and password configuration, set the tabs and how your workspace is laid out, alter default chart, patient file, appointment book settings and more.
This article is an overview of the options available in User Settings with links to further documentation, where available.
To access your User Settings, navigate to Configure - User Settings, confirm your user profile is displayed with your user login display in the Code field at the top of the window.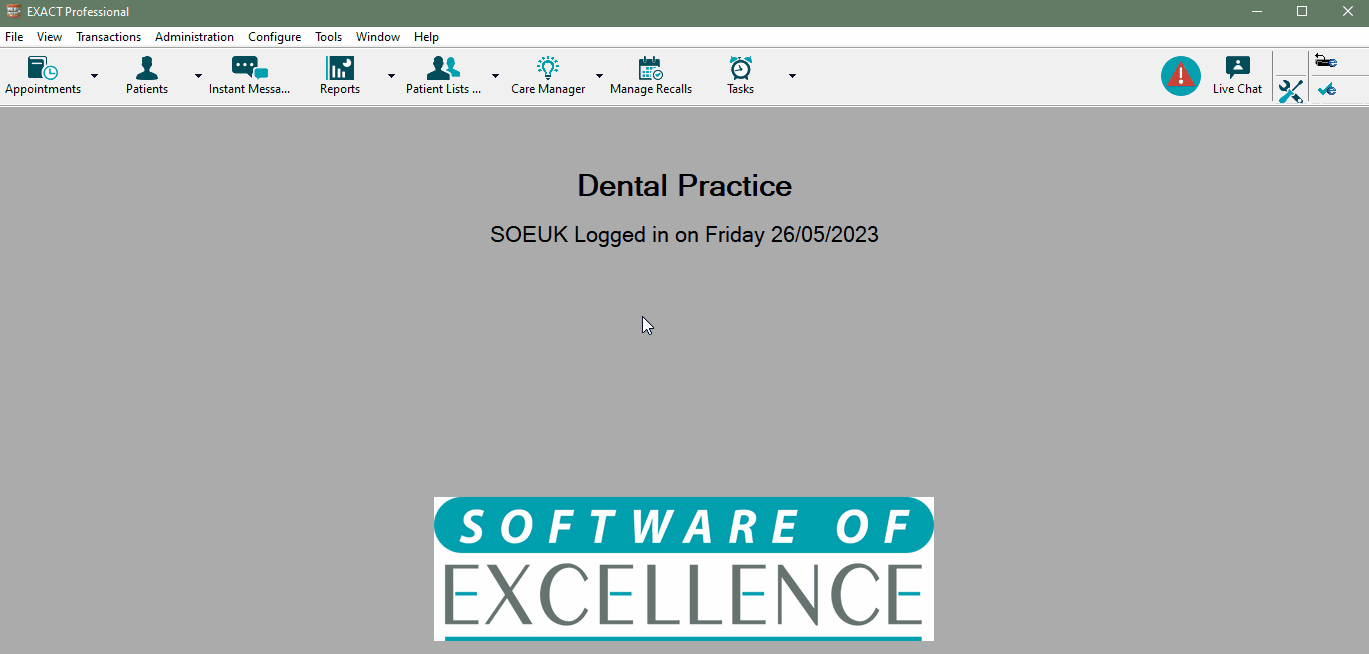 Password
This space gives you access to change your password and set the recurrence schedule for updating your password. Read more about resetting your EXACT password.
Workspace and tabs
User Settings displays your current configuration as well as allowing you to configure which tabs are displayed in the Workspace, Appointment Book and Chart tab.
Workspace Items are the icons along the top of EXACT, providing you access to your most used areas within EXACT. Clicking Setup will allow you to configure your workspace.

Multi ApptBook Tabs are the options available along the bottom of the appointment book, select Setup to edit your displayed tabs as well as the order.

Charting Tabs shows the selected tabs displayed on the Chart tab on a patient file. Setup allows you to edit the displayed tabs from outside a patient file.
Chart
This controls some of the default settings for the Chart tab in the patient file.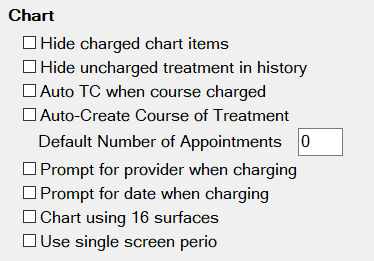 Hiding items can help reduce confusion when viewing treatment.
Auto TC or COT creation reduces the number of clicks when processing treatment in EXACT.
Prompt for provider when charging can be useful if a number of different providers work on one Course of Treatment.
Prompting for the date when charging is useful for resubmissions, providing a useful reminder to check the date and back-date if necessary.
Information on Single Screen Perio can be found in a dedicated article.
Patient File
Balance Flashing and/or Stop Credit Alert Flashing options are useful reminders, however they may become distracting, tick/untick as required.
Viewing treatment history could be useful, tick to view these in the notes tab.
Appointments
Appointment settings and configuration settings can be found under the Appointments heading.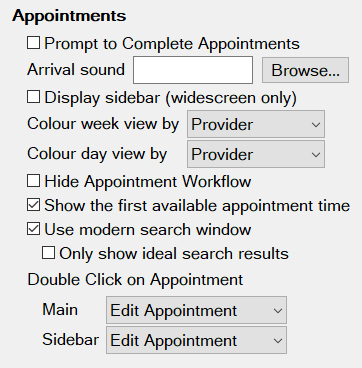 Prompt to Complete Appointments will display a prompt, reminding you to complete appointments and complete th patients journey through the practice.
Arrival sound is the sound heard when a patient is marked as arrived.
Colour week view and Colour day view set how the appointment book is displayed, these can be set to Provider, Payor, Category.
If the workflow is not useful for you position, you can Hide Appointment Workflow.
When searching for appointments, EXACT can be set to display the first available appointment time.
The legacy search window can be activated by unticking Show modern search window along with viewing ideal search results or all.
How a double-click behaves when clicking an appointment on the Main appointment book or sidebar can be configured to edit the appointment or open the patient file.
Candy Stripe Lists
This is useful to distinguish between lines of text in EXACT, by selecting this option alternating lines of text will have the chosen colour as their background. This is used throughout EXACT in reports, Patient Lists and more.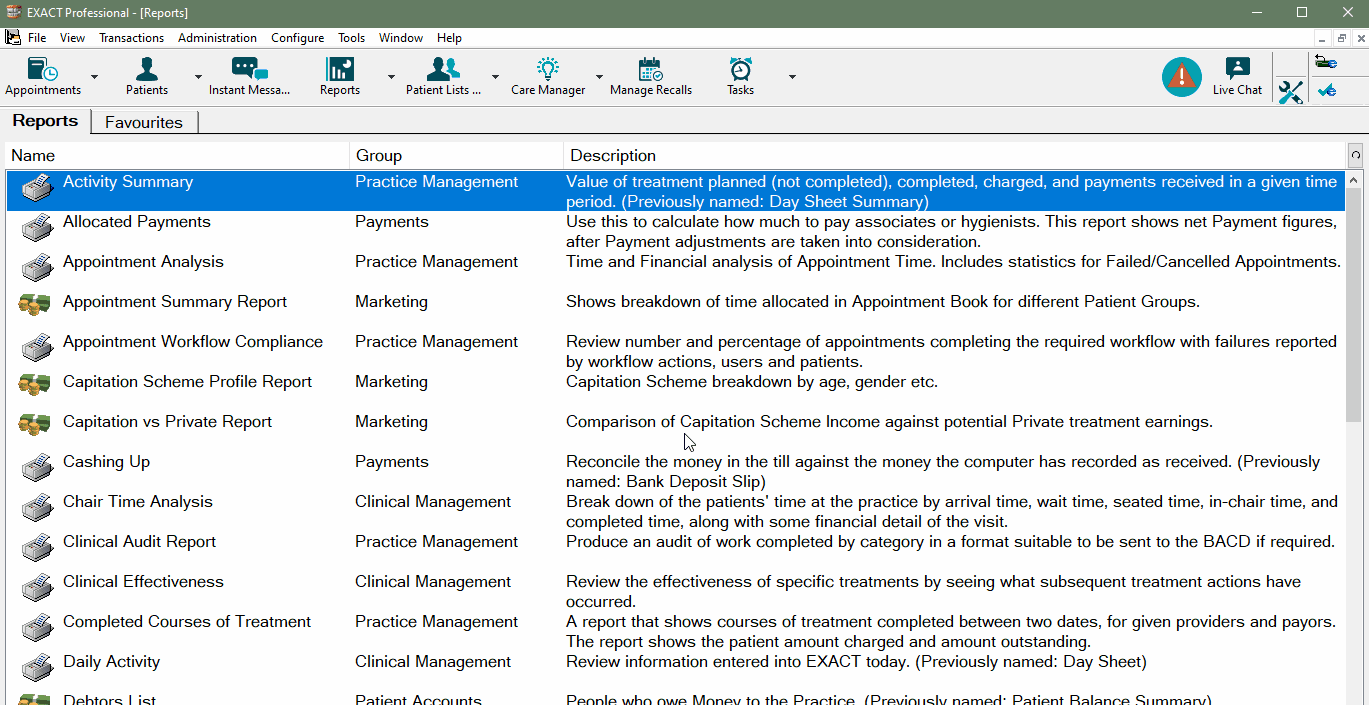 Instant Messages
The behaviour of instant messages for your user is configured here, including if a sound is heard or not, how they are displayed on screen and am/pm or 24hr time format.
For steps on editing the size of your instant messaging text, see Adjusting instant messaging text size
Security Lockout
The time delay of the security lockout can be adjust in minutes using this setting.
Invoice and Receipt Printing
The default settings for printing both invoices and receipts can be set to prompt, always or never print.