Unseen Payor Members Report
This report is used to print a report identifying patients with a payor entered in the Patient Details tab, who have not been seen by the practice within a specified date range.
It is generally printed annually to follow up on patients who have not had an annual check-up in the last twelve months.
The resulting report includes the following:
Patient Name

Patient Date of Birth

Date the patient was last seen

Patient Registration Date.
To Run the 'Unseen Payor Members' Report
Go to Administration -> Reports and select 'Unseen Payor Members':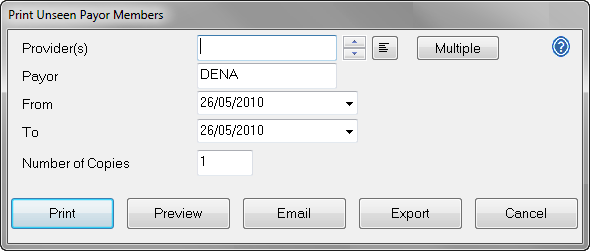 Leaving the Provider(s) field empty will print an 'Unseen Payor Members' report for the entire practice; however an individual provider can be selected from the list by using the List button.
Clicking the Multiple button will allow printing for a combination of Providers.
The Payor field will default alphabetically to the first payor on the list, but can be changed using the button.
The 'From' and 'To' Date fields are used to define the date range for the report.
Click Print to send the report to the printer, Preview to preview on screen and then print from the 'Preview' screen, or Cancel to return to the previous screen. You can also Email a copy of the report, or Export the report data to an external file, to use in a spreadsheet or word-processing program.