This report is used to print a list of patients who have completed lab work currently listed against their patient record.
NOTE: For the lab work done report to run effectively, initially a certain amount of configuration is required to set up the laboratories that are used by the Practice and set a prompt against the services that require lab work. See Creating & Charting Lab Service Items
To Run the Lab Work Done Report
Go to Administration -> Reports, and then 'Lab Work Done':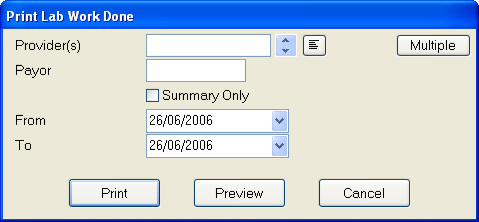 This report can be run for individual Providers, or more than one Provider can be selected by clicking on the Multiple button.
The option is also available to print as one report or as a separate report for each Provider.
If locations are enabled, more than one location's lab work can be included by clicking on the button.
The report can be limited to lab work for a single Payor by using the 'Payor' field.
The 'From' and 'To' date fields are used to define the date range for the report.
NOTE: The 'To' date should be a date in the future if the report is to show due as well as overdue lab work.
A summary report only can be printed by clicking in the 'Summary Only' checkbox.
The standard option buttons for printing reports are available.