Payor Fee Schedule Report
This report is used to print the list of fees for a selected payor. This report can be run in order to manually check the prices from the contract provided by each payor.
The resulting report includes the following:
The practice Service Codes

The practice Service Descriptions

Type

Graphical Type

Payor Fee for services.
Running the Payor Fee Schedule report
Go to Administration - Reports and select Payor Fee Schedule.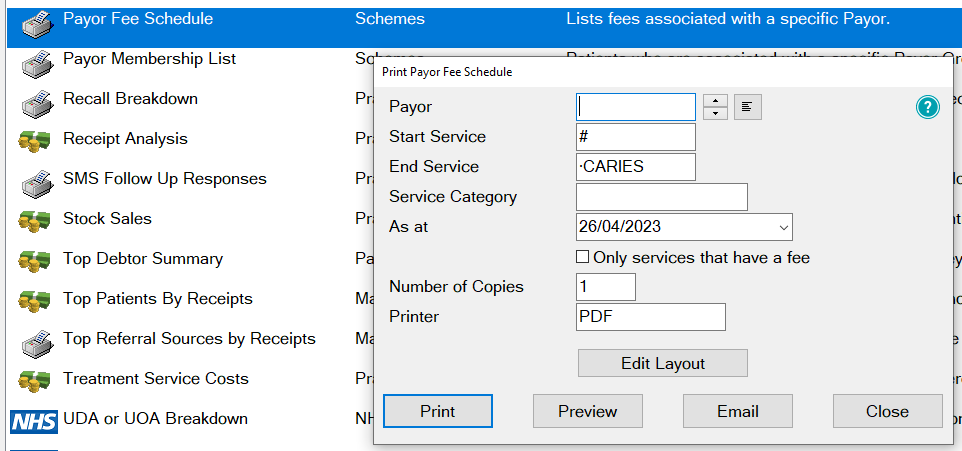 Leaving the Payor field empty will print a 'Payor Fee Schedule' report for all payors; however an individual payor can be selected from the list by using List button.
The Start Service and End Service will default to the first and last codes in the list, but they can be changed with the Up/Down arrow to avoid printing irrelevant Services, if they have been coded in a manner to put them at the top or bottom of the normal Service List.
A Service Category can be selected button if you wish to print only services of a particular category, for example 'Crown & Bridge' services only.
The As At date defaults to today's date, but can be back-dated if required.
Click Print to send the report to the printer, Preview to preview on screen and then print from the 'Preview' screen, Email to email a copy of the report to an email recipient, or 'Cancel' to return to the previous screen.
The example below shows a section of current fees for all services with a fee, with codes from 'F' to 'H':