Creating/Editing SMS Templates
SMS templates can be created/edited under Configure->SMS templates

From here you can either choose an existing template using the Select an Email Template button

or create a new one by clicking the +1 button
If creating a new template enter a code
Type a description of the Template (e.g. Appointment Reminder)
The 'Truncate To' field controls the maximum length of SMS messages to be created, and how many SMS credits you are charged for each one, based on its length.
Each SMS is 160 characters. Any characters after the limit will be truncated and will not be sent. The message does not take merge fields into account so make sure there are enough characters to cater for any merge information you have requested.
In the large white box, type the text to appear in the SMS message.
The total character count, and the number of SMS messages it represents, will appear below the box.
If you need to source information from the EXACT database when you use the template (Patient Name/appointment info etc) you can use merge fields. To add merge fields, click the View Merge Fields button at the bottom of the screen. This will display the Letter Merge Fields window: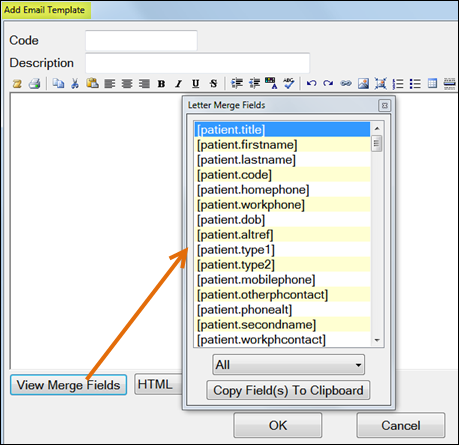 To get the merge field into the document, use the clipboard as follows:
Highlight the merge field(s) that you require (you can hold down SHIFT for multiple selection)

Press CTRL-C on the keyboard, or click the Copy Field(s) to Clipboard button to copy the field(s) to the clipboard

Position the mouse cursor in the document or template at the point where you want the merge field(s) to be inserted.

Press CTRL-V or RightClick>Paste to insert the clipboard content.
You can also type the merge field out manually in the format of [patient.dentistname]
When you have finished editing the template, click the save button to save it.
Example: