iCal Personal Calendar Appointments
iCal is a feature that will automatically email appointment reminders with an iCalendar (.ics) format as an attachment from EXACT to patient Email Inboxes, for patient inclusion in their personal electronic calendars.
Examples of patient view
Apple iPad example: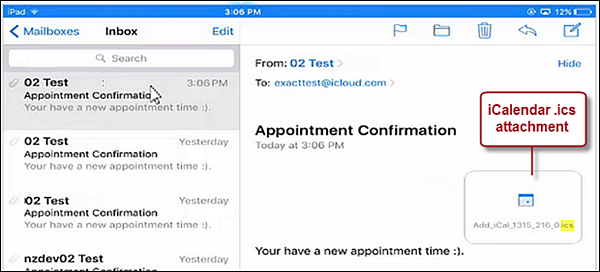 Microsoft Outlook example:

Configuring iCal appointment reminders
Go to

Configure - Automatic Appointment Reminders


Click Next and the Automatic Emails window will display.

Tick the Include iCal appointment information checkbox.
The appointment reminder time will add a notification alert on the patients device.
Set the time to add as a default alert time.
You must select both an Appointment Confirmation and an Appointment Cancelation template. You can find out more about how to create email templates in Creating/Editing Email Templates.
Once these are configured, your reminders will include iCal information for patients, click Next > then Finish on the final window save your changes.
Other settings in this window include
The Delay appointment email sending allows EXACT to hold the confirmation email in the outbox before sending to the patient.
If EXACT emailed the confirmation immediately there would be many false start confirmation emails that the patient would need to delete from their email inbox. The delay period allows time for a definitive appointment slot to be chosen before EXACT sends the confirmation.
This setting is configurable in minutes, with a default of 10 minutes and a maximum of 99 minutes.
Prompt before sending will ensure Reception is asked to confirm that they want this message sent. They can then choose not to send the message if not required. For example the appointment could be in 30 minutes and a confirmation not required.
Once you have finished the configuration click Next three times and then Finish.