Previously named "Prime KPI Report".
Configure and generate a single report to monitor the key KPI (Key Performance Indicator) for your practice. Includes New Patients Seen, Production Per Hour & Clinician Hours Scheduled.
Open the Administration > Reports menu and scroll down to locate the Prime KPI Report.

Double-click KPI Report

Optionally click the Change Key Item Codes button to display the selection screen for service codes. From here you can add Service codes or Remove them:

Select OK when complete.

Print, Preview, Email or Export the report.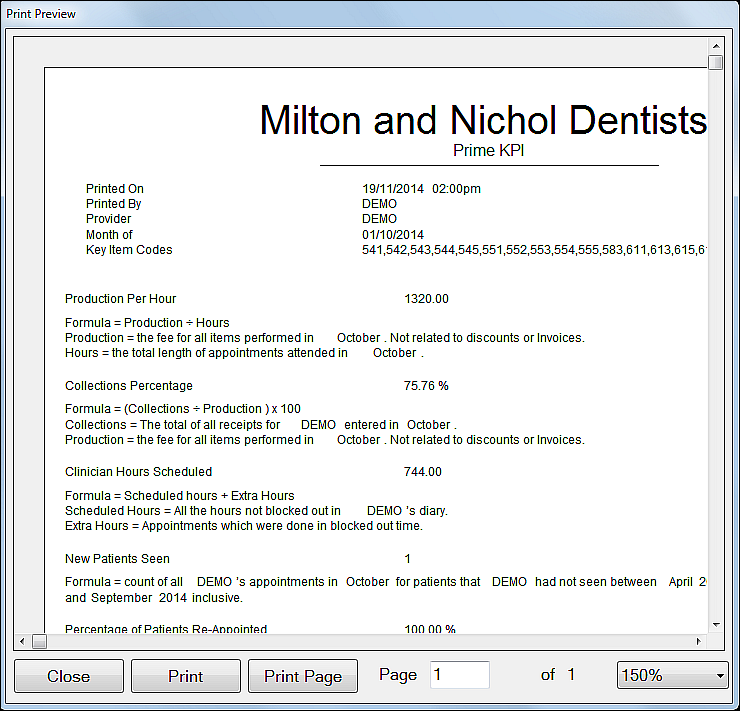 A feature of the report is that an explanation is printed on the report of the derivation for each of the details reported upon: what information was used to derive it, and how the calculation was made.
The following details are reported:
Production per Hour - Fees for all items for the reported period, divided by the total appointment time.

Collections Percentage - Total receipts for the period divided by the fees due.

Clinician Hours Scheduled - Total of scheduled and extra hours for the period.

New Patients Seen - Count of patients seen in this period, that were not seen in the prior 18 months.

Percentage of Patients Re-Appointed - Patients seen in the period, for whom future appointments were scheduled.

Amount Paid per Patient (last six months) - Fees collected divided by the number of patients seen.

Average Appointment Time - Total appointment time divided by the number of appointments in the period.

Number of Active Patients - Number of patients seen in the last 18 months.

Number of Key Items Done - For the Key Item Codes selected, this counts how many were performed on the last 100 patients seen.

Attrition Rate - Number of patients who were last seen 18 months ago who have not had appointments since then.